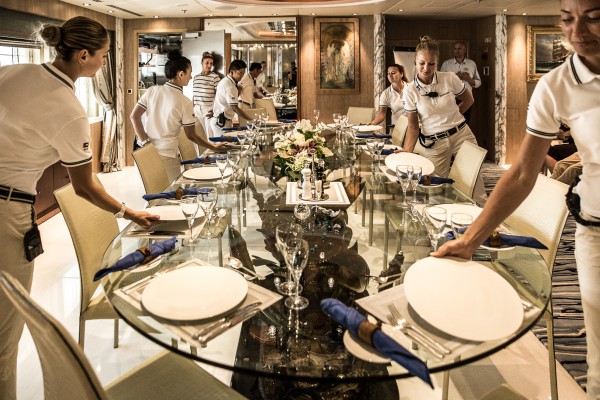 Anyone who has worked in the service industry will have come across a tricky customer. These situations are only compounded when you are in an environment where clients have paid a large amount of money, are used to an extremely high level of service and have been known to be demanding of those serving them.
Speak to any crewmember and they will recall an incident or occasion where they were involved with an awkward client. To ensure any difficult situation is diffused, it's important to first understand why the client is upset. "Emotional intelligence (EQ) and social intelligence (SQ) are pivotal when working on board yachts, not only to effectively deal with guests but also crew," says Karine Rayson, aka The Crew Coach. "Crew need to learn how to be an expert in managing very challenging and, at times, difficult guests"

The difficulty on board is that there is often a lack of sufficient HR training for superyacht crew, which is different from other service industries. "A lot of training is about managing the guests' expectations and dealing with disappointment, dealing with complaints, awkward situations and requests for things that are illegal or immoral," says Sara Ballinger of Crew-Glue, who has spent years providing coaching for luxury-hospitality sectors and now works with superyacht crew. "It's about creating a sense for your clients that 'okay, what's happened has happened, let's focus on what we can do. I'm confident and I know what I am doing'. That will often diffuse the situation."
"It's about creating a sense for your clients that 'okay, what's happened has happened, let's focus on what we can do. I'm confident and I know what I am doing'. That will often diffuse the situation."
Clients who own or charter vessels are used to an extremely high standard of service, which means their demands can range from the obscure to the illegal. Ballinger believes that if crew are asked to break the law, the most effective way to refuse is to say 'no' and then explain why you can't carry out their request. "If a client asked you to buy drugs and bring them on board for them, for example, [crew should say] 'I'm not prepared to do that and the reason is [that] as a crew we would be held directly responsible in the event that drugs are found on board, and we can't accept that level of risk'."

Victoria Steyn, recently qualified as a purser, has spent almost 20 years in the yachting industry. She says it is vital for crew to have a thorough understanding of the profile of the guests before they come on board the vessel. The global profile of yacht clients means they are from various backgrounds, countries and cultures. "Normally, if you have guests coming on board, we try to talk about where they come from," explains Steyn. "Not just in terms of the physical journey, but also the cultural differences and their traditions, and how we should behave around them. There are a number of different, strong cultures that really need to be adhered to."

Often, tensions run high when guests can't understand the multifaceted roles of crew. "Clients, because they are on holiday and it's their relaxation time, they don't totally understand how the yacht crew are trying to run things for their safety and for their enjoyment," adds Steyn. "I think, particularly on the interior, crew are [seen as] waitresses on board a floating hotel. It's hard to get across that everything we are doing is for them, and everything we are doing is for their happiness and their safety."
"I think, particularly on the interior, crew are [seen as] waitresses on board a floating hotel. It's hard to get across that everything we are doing is for them, and everything we are doing is for their happiness and their safety."
When approaching a situation with a potentially difficult client, Steyn advises that simple things such as choice of words and body language, can significantly influence the outcome of discussions. "I've always worked with crew on language skills and the physical presence," says Steyn who advises crew to "stand in a non-challenging way", and highlights that although guests must be treated cordially, there has to be a line drawn between polite service and friendliness. "It's good to talk to guests but also know when to remove yourself. You've got to walk the line of not being aloof because you want them to know that you are their crew, but at the same time you are not their friend. You are there to do a job." Rayson agrees that in any heated exchanges, body language can make a huge difference. "Displaying a calm assuredness can go a long way towards defusing difficult situations."

If there has been a challenging incident, after the guest's departure it is important to have a debrief among the crew to ascertain what went well and what didn't. This is an opportunity to look at the interactions between the crew and the client and improve for the future. Steyn believes this helps to move the crew forward after a difficult trip. "You must have a debrief afterwards. We keep a day book which has likes and dislikes of the guests. It gives the framework of the trip and it also shows certain situations that have happened previously so we can try to avoid them in the future and learn from them."

Ultimately, the more crew experience situations with clients, the better they will be to cope with the broad spectrum of guests and their individual needs. With the support of their senior heads of department, and the methods outlined by Ballinger, Rayson and Steyn, stressful or unpleasant circumstances can be dealt with as positively as possible

Sara Ballinger of Crew-Glue, outlines her strategy for dealing with stressful or intense situations:

Shelve judgment
Very often when we enter a conflict situation, we go into it with an unconscious bias that will often project on to the person we are dealing with and make things worse. Step one for me is to always shelve judgement and focus on what is happening in front of you.

Focus on the facts
Focus on the facts and listen to the words that are being said.

Acknowledge the emotion that they are displaying.
You can say, 'I can see you're upset. I am sorry that you are angry.' Acknowledge the emotion, never ignore it, because that just makes matters worse.

Don't take things personally.
I know this is easier said than done but remind yourself that it isn't about you.

STAY – Stop thinking about yourself.
It's not about you. Very rarely is the complaint directly about you as an individual. It's recognising that is the case and managing it accordingly.

Find the cause of the issue and a solution
Why are they upset? What is it that they want? Find out what the real issue is, explore what is going on and do it as directly as possible. Then ask 'What can we do?'. Have a 'can-do' approach.

I'm OK, you're OK
This is psychiatrist Thomas Anthony Harris's theory. Human beings automatically (and unconsciously) position ourselves hierarchically when we meet others; either above them, below them or equal to them. If you behave in a subservient manner towards someone who is quite aggressive, then they will just perpetuate that relationship. By having a sense that you are equal and have the right to be treated appropriately, it makes a big difference to the way you appear to others. It's about having the ability to project that you're not better than me, and I'm not better than you. 'You're OK and I'm OK', so we can speak to each other like adults.
Image: Crew training at a PYA event. Credit: K Howson
---
If you like reading our Editors' premium quality journalism on SuperyachtNews.com, you'll love their amazing and insightful opinions and comments in The Superyacht Report. If you've never read it, click here to request a sample copy - it's 'A Report Worth Reading'. If you know how good it is, click here to subscribe - it's 'A Report Worth Paying For'.