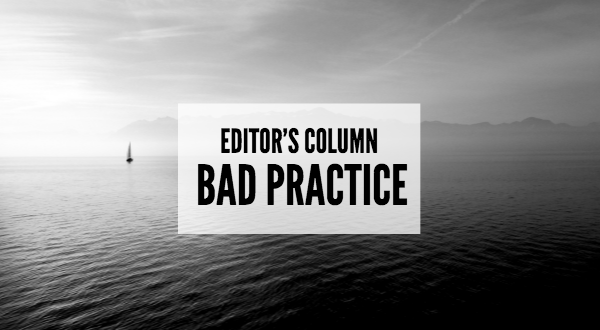 I received a confidential email from a captain this week, and I couldn't get it out of my head. While I am humbled by the fact that a captains and crew choose to confide in me, it's always bitter sweet; the reason these conversations are confidential is nearly always because it's a complaint about something happening that shouldn't be, and in such a hush-hush industry it's dangerous to put your name to such statements.
In the past month alone I've received lots of these gripes. I've received an email from a captain about recruitment agents reportedly repeatedly placing unsuitable candidates quite simply due to commission. I've had an email from a chief engineer about kangaroo courts on board, where crew are giving unsuitable penalties their colleagues (often involving drinking) for things like turning up late. I've had contact from a chief stew who was shocked to find a recruitment agency sending out lists (large photo, name, nationality and one descriptive sentence – almost replicating a dating website) of all the crew on their database ("recruit two crewmembers through us and we'll get your third crew member for free"), including crew who are happy in their current jobs, not looking for work and have not given their permission to be put forward for anything. I've spoken to a provisioner who has complained about all the cash kick backs still happening.
---
If you disagree with a practice taking place in the industry today, tell us. We'll ask the questions and will do our best to provide you with some answers.

---
None of these things should be happening, but they are. And as journalists it's our job to get to the bottom of what's going on. If it turns out that these sorts of things, or things equally as shameful, are happening across the board, we will go to the relevant recruitment agent, captain, whoever, and ask them what on earth they're doing. But to find out what those issues are, I need you as crew to come forward and tell me what you're seeing that you shouldn't be. Only then can things really change.
And I will promise you this. You can rest assured that if you approach any member of our team with one of these stories and you tell us it's confidential, enough said. We're not in the business of naming and shaming. (In fact, recently a photo was posted across social media of a tender being lowered with crewmembers in it causing, quite rightly, a fair bit of controversy. One of the comments on Facebook was "name and shame", to which I immediately replied that was completely unnecessary and to the benefit of no one - it's about educating people not embarrassing people.) So the message is short and simple: if you disagree with a practice taking place in the industry today, tell us. We'll ask the questions and will do our best to provide you with some answers.
If you want to talk to our editor about a bad practice you see taking place, email lulu@thesuperyachtgroup.com.
---
If you like reading our Editors' premium quality journalism on SuperyachtNews.com, you'll love their amazing and insightful opinions and comments in The Superyacht Report. If you've never read it, click here to request a sample copy - it's 'A Report Worth Reading'. If you know how good it is, click here to subscribe - it's 'A Report Worth Paying For'.