Just let that sink in
The idea of a superyacht sinking to the depths of the ocean is a nightmare for some, but that's not stopping a marine conservation group in the US…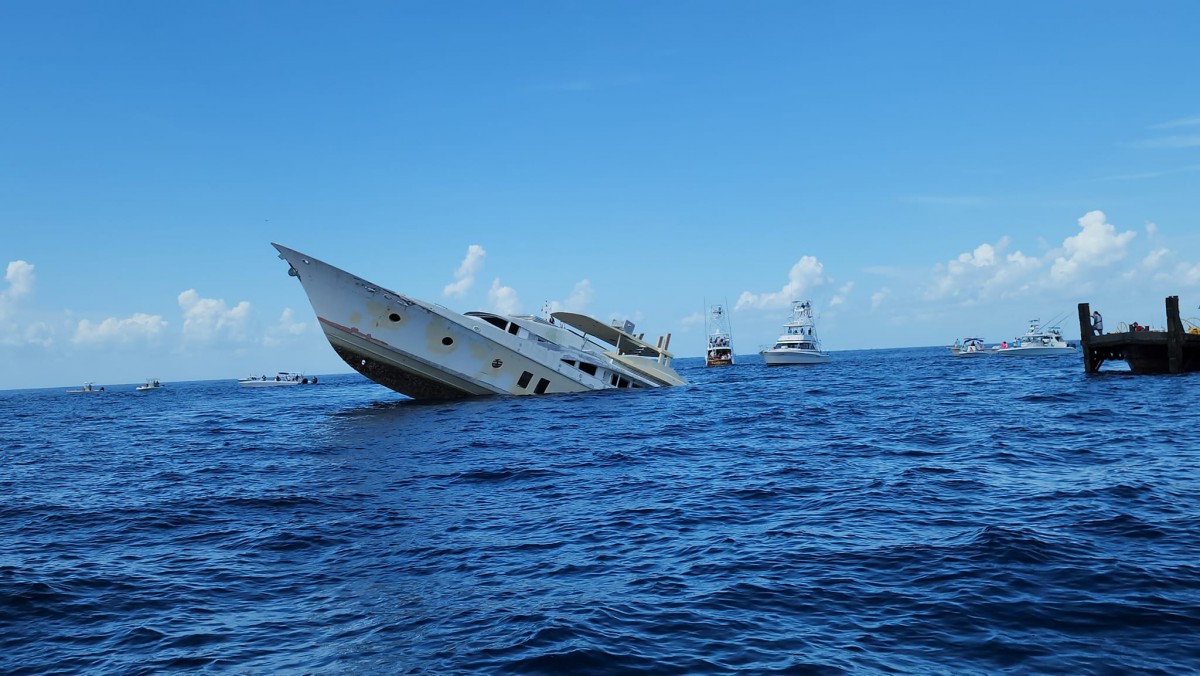 Superyachts often get a bad rap when it comes to sustainability. This issue becomes especially contentious when examining what actually happens to yachts when they are decommissioned. The use of toxic chemicals and materials prevents many boats from being recycled. But what if a yacht's afterlife could actually be spent benefiting marine ecosystems?
Enter Marine Cleanup Initiative (MCI) – a Florida-based nonprofit marine conservation group that sinks boats to create artificial reefs. While there is a long history of old navy ships being sunk to create dive sites, MCI is also using derelict superyachts to promote the growth of endangered coral species and to create reefs. In turn, the group hopes this will enhance local biodiversity, as well as contribute to the local economy through diving tourism.
When we spoke to MCI, we discovered that the group's operations extend far beyond just acquiring old vessels and sinking them.
The group recently made headlines when it sank the 38m M/Y Time off the east coast. The Palmer Johnson boat was the first superyacht in the US built with an aluminium hull and superstructure. Although they didn't know it back in 1987, this played a vital role in its new life under the sea 26 years later as it became a home for local coral species.
"Oculina coral loves aluminium, and Time has hundreds of tonnes of it," Christa Stone, Director of Operations at MCI, tells TSG. "When Time was first delivered back in the 80s, it was paraded around the east coast. People were in awe of it. Now it has the chance to live a new life under the sea and help promote biodiversity in our waters."
Stone and MCI raised donations to buy the boat, which had fallen far from grace. "Time was a lost piece of art, a relic when we found it. It hadn't sailed in over 11 years until we put it in the water," says Stone. "At one time she was brought back from Mexico, after she was found listing in a canal, we remodelled it, and then gutted it. There is an irony in that we have brought it back to life by sinking it down to the depths."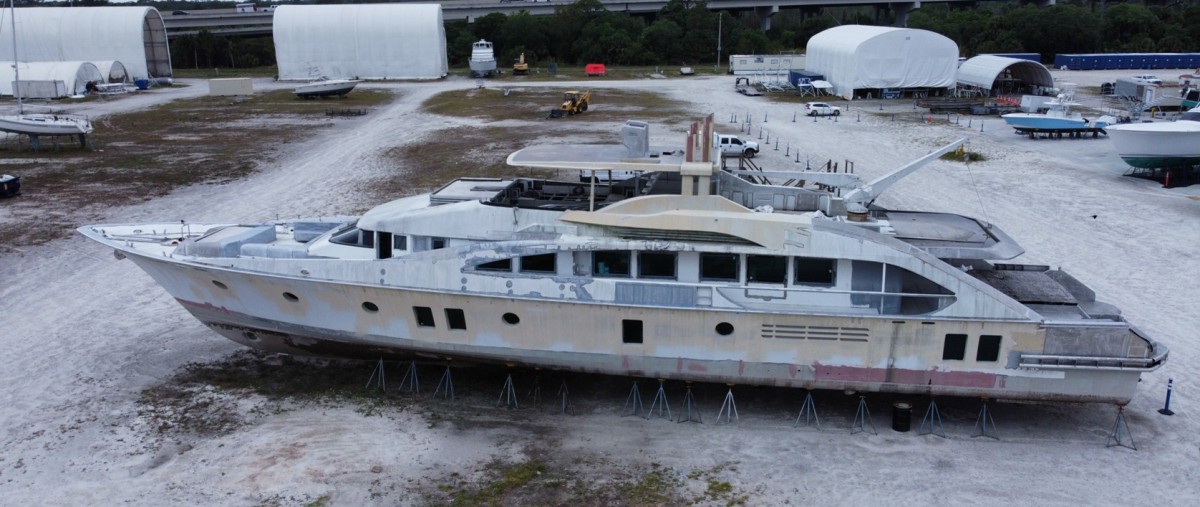 MCI contracted McCulley Marine Services to strip the vessel until it was nothing but an aluminium skeleton. This process allowed the team to remove all toxic materials such as resin and plastics. With only the bare hull and superstructure remaining, MCI, having received donations from Seamix Concrete and Ocean's Technology, filled the old engine tanks with concrete, another material oculina coral tends to grow on, adds Stone.
This is by no means the first ship Stone has helped turn into a reef. The Vero Beach radio personality and conservationist has been involved in the sinking of seven ships so far, not all of them superyachts. Notably, in June, she helped submerge the Voici Bernadette, a 54m cargo ship previously used by drug runners, as part of St. Lucie County's artificial reef program.
"This is a reality for some people. Cartels bring drugs into the US along the coast at the cost of life," says Stone. "Then there is the problem of what happens with a cartel's ship after they are caught. Seeing US authorities capture the smugglers, seize their boats, and sell them at auction, only to see them fall back into the hands of the drug dealers, is soul-destroying. This is just one of the reasons we do what we do."
Stone and MCI raised money from donations to buy old ships from US Customs and Border Protection Agency auctions. "There is something poetic about this," explains Stone. "You take something that has caused so much pain. You take it out of the hands of people who have destroyed lives. And you turn it into something that actually benefits the world." I think that's pretty beautiful, she adds.
The more recent project of Time might not offer the same sense of poetic justice as sinking drug dealers' ships. Instead, it serves as an example of what to do with an ageing fleet. In its heyday, Time was a state-of-the-art ship. Now, the industry tends to favour materials that are nearly impossible to recycle, reuse, or decompose. For the minority of the fleet which is beyond repair, unsellable, or out of fashion, initiatives like this present an opportunity for owners to donate their old yachts to groups like MCI to create their own dive sites that they, other yachters, and locals can enjoy.
Yachts provide hundreds of thousands of jobs and pump billions into local economies. With artificial reef projects, they can serve a similar purpose. Dive sites in the Caribbean have declined dramatically in recent years due to poor weather, warming waters, and rising acidity. This has killed coral, the literal bedrock of reefs and life in the ocean. So the prospect of superyachts being used as artificial reefs not only has the environmental benefits of increasing biodiversity and restoring coral reef health but also local economic benefits through diving tourism once the latter improves.
It could be an attractive proposition for serial owners – instead of leaving an old yacht to rot or trying to sell it for a fraction of its cost, their old superyacht could be transformed into a dive site they can explore with friends and family, as well as help rebuild local marine ecosystems.
---
Click here to become part of The Superyacht Group community, and join us in our mission to make this industry accessible to all, and prosperous for the long-term. We are offering access to the superyacht industry's most comprehensive and longstanding archive of business-critical information, as well as a comprehensive, real-time superyacht fleet database, for just £10 per month, because we are One Industry with One Mission. Sign up here.
Related news