The superyacht new build market is consolidating, so say the numbers, the market commentators and every other Tom, Dick and Harry. The Superyacht Report: New Build, which will be published in February, will reveal that the new build figures for 2018 are the worst they have been since 2001. However, is it fair to tar all new build activity with the same brush? Using data from The Superyacht Report: New Build we consider how the Italian market has fared in light of this consolidation.
While the word 'consolidation' is seemingly being bandied around willy nilly at the moment, it nevertheless remains the most apt word to describe the new build market today. Whereas general new build figures have continued fall in 2018, the same is not true of Italy's delivery figures. Not only is Italy historically the most productive superyacht manufacturer, accounting for 29 per cent of the global fleet (1660 units), it remains the most productive region year on year.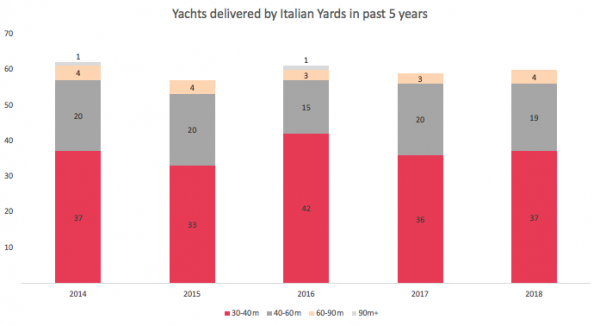 Figure 1
As Figure 1 clearly highlights, the Italian new build market has remained almost unmoved in the face of declining new build figures. Pessimists may look at the graph and point out that the market has failed to grow. However, to remain stable during turbulent times is far more impressive than growing at an unsustainable rate during a boom period, a practice that signalled the end for a number of shipyards in the post Global Financial Crisis cull of over-stretched and under-funded businesses. Indeed, since 2014, Italy's delivery figures have only fluctuated by five units from the peak in 2014 (62 units) to the trough – if you can call it that – in 2015 (57 units).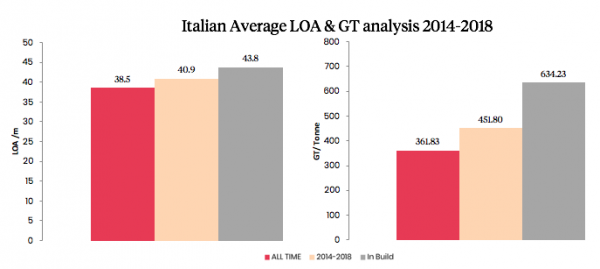 Figure 2 Figure 3
Whereas the Italian new build market may not have grown exponentially in terms or delivery numbers, the vessels themselves are certainly growing. Figures 2 and 3 highlight how the average Italian superyacht has grown over the years. Most notable is the large increase in GT of the Italian vessels that are currently in build when compared to those that have come before. With 73 40-60m vessels in build, as well as 20 60-90m projects and four 90m-plus vessels yet to be delivered, the 40m-plus market now accounts for nearly half (97) of Italy's in build fleet (210).
The Superyacht Report: New Build will boast all the detailed analysis and market insight previously associated with our Annual Reports, with a number of complementary articles and features that the industry has come to know and love within the pages of The Superyacht Report.
If you would like to receive unrivalled information and expert opinions which cover all aspects of the superyacht industry, then why not sign up to our special introductory subscription offer to The Superyacht Report for as little as £50 for one year? Click here to subscribe.
---
If you like reading our Editors' premium quality journalism on SuperyachtNews.com, you'll love their amazing and insightful opinions and comments in The Superyacht Report. If you've never read it, click here to request a sample copy - it's 'A Report Worth Reading'. If you know how good it is, click here to subscribe - it's 'A Report Worth Paying For'.