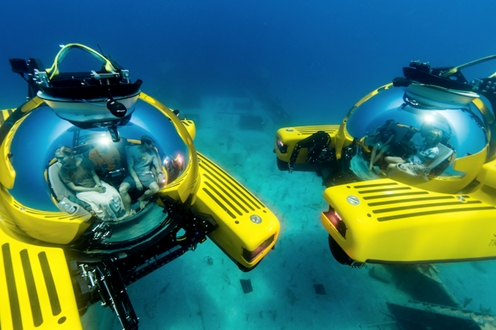 Vero Beach, Fla., March 7th, 2018 - Triton Submarines LLC, the leading manufacturer of personal submarines designed for yacht and cruise ship deployment, is once again one of the most popular exhibitors at the 2018 Palm Beach International Boat Show showcasing one of their Triton 1650/3 LP 'Superyacht Subs'. Weiging just four-tons and under six-feet high, this compact three-person submersible that can achieve depths of 500m (1,650-ft) has been designed to slip neatly into a yacht's tender garage.
The Floridian manufacturer is also celebrating the recent delivery of the eighth unit of their 3300/3 model, breaking all records for series production in the submersible sector. The popularity of the versatile submersible, which allows a pilot and two passengers to travel to depths of 1,000 meters (3,300 feet) in complete safety and comfort, far surpasses the production numbers of any other personal submersible on the market. Designed for leisure use, the eighth delivery of a Triton 3300/3 reinforces the wide-spread acknowledgement of it being the benchmark sub for private use, documentary filming, research and salvage operations.
Delivery of the eigth Triton 3300/3 provides evidence of Triton's dedication to a continuous and rigorous development program, with several notable upgrades incorporated in this third MKII unit, the most significant being a Valence LiFePO4 (Lithium Iron Magnesium Phosphate) battery system. This latest in battery technology increased operational endurance by 25 percent while eliminating the requirement for preventative maintenance on the batteries. This results in a submersible with 16 hours of operational endurance. The Valence cells can be recharged in 2.5 hours and it is predicted they achieve a life expectancy of 10 years.
Following the handover Triton Submarine's President and Co-Founder, Patrick Lahey commented: "On returning to the surface after his first dive, the Owner's first words on exiting the sub were, 'Sell all the dive gear, we no longer have any use for it.' A wonderful testimonial that makes the hard work of the full Triton team, who turned this project round in just 10-months, entirely worth it. The first integration of the Valenece LiFePO4 battery technology in one of our 3300/3 MKII models marks another important milestone for both the company and industry, delivering on our commitment to continually enhance the safety, reliability and fun that every Triton client experiences."
Lahey added, "I'm not aware of any other leisure company producing a submersible capable of diving to 1,000m, so to have nine vessels with full class certification able to do so, and the thirteen craft we've delivered all still fully in class to dive to their design depth, makes Triton completely unique in this field. We wish the owner and crew of latest addition to the Triton fleet every success with their new craft and, as with all our clients, we assure them we'll be alongside them every step of their exciting new journey with our world-leading aftersales support and service."
During the Palm Beach show Triton team members will be on-hand to provide further information on not only their comprehensive range of submersibles to prospective clients, but also to discuss the nuances of submersible integration with shipyards, designers, owner's representatives and captains into new yacht projects or existing programs. Tritons have been deployed in a wide variety of missions by multiple expeditions over the years, including capturing the first ever footage of the giant squid in its natural habitat in 2013 and a landmark series about the Great Barrier Reef with Sir David Attenborough in 2015. A Triton was also used extensively during the filming of the Blue Planet II documentary, already the most watched UK series of 2017, the series premiered in the United States in January.
ABOUT TRITON SUBMARINES
Triton Submarines of Vero Beach, Florida is the most experienced civil submarine producer in the world today, and the only contemporary manufacturer of acrylic pressure hull equipped personal submersibles to deliver multiple classed and certified vessels capable of diving to 3,300 feet (1,000m). Triton Submarines' senior staff have over 350-years combined experience with more than 80 different submersibles, the operations team have logged over 25,000 dives. Triton clients enjoy superlative after-sales service and technical support from a company dedicated to their total satisfaction.
FOR MEDIA ENQUIRIES
For media enquires please contact Kelly Downey of Shamin Abas Public Relations at (212) 734-5500 or kelly@shaminabaspr.com.
---
The entity that submits this press release to SuperyachtNews.com hereby accepts sole responsibility for the facts, accuracy and completeness of the content. All content and mediums submitted are an acknowledgement of the suitability for publication. SuperyachtNews.com accepts no liability or responsibility for any inaccuracies or errors made by the submitter in this regard.
---
If you like reading our Editors' premium quality journalism on SuperyachtNews.com, you'll love their amazing and insightful opinions and comments in The Superyacht Report. If you've never read it, click here to request a sample copy - it's 'A Report Worth Reading'. If you know how good it is, click here to subscribe - it's 'A Report Worth Paying For'.