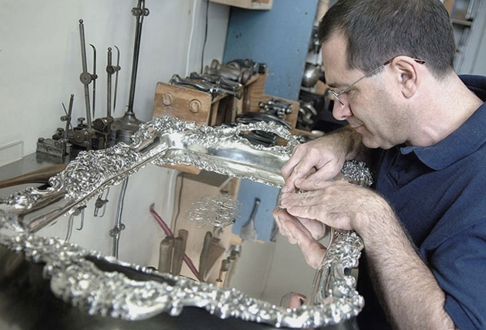 When the Superyacht Operating Systems (SOS) team created their new Digital Reference Center—a vast encyclopaedia of all things superyachting—they searched the world for the most respected experts in every field. The aim was to ensure the highest quality and reliability of information, available to crew with just a few clicks on the iPad (via the Total Superyacht Vessel Management Software).
When silversmith Jeffrey Herman agreed to be their expert on all things silver, it set the bar high for every expert to follow. He is the founder and executive director of the Society of American Silversmiths and advisor to several notable entities including the New York Silver Society and Silver Magazine. He is a fellow of the Institute of Professional Goldsmiths, UK, a member of the Preservation Artisans Guild, and recommended by Georg Jensen, Buccellati and such cultural powerhouses as the Boston Museum of Fine Arts, Yale University Art Gallery, Rhode Island School of Design Museum of Art, Christie's, and Sotheby's, to name a few.
Jeff is an environmentalist and uses the safest non-toxic, organic products available. With over forty years of experience as well as up-to-date knowledge of studies performed by notable conservation institutes, his knowledge and methods are state-of-the-art and the SOS team has already identified several common practices on board superyachts that Jeff strongly advises against.
Superyacht Operating Systems are delighted and proud to have Jeff as the expert silver consultant for the Total Superyacht Digital Reference Center, and they look forward to sharing his expertise across the industry.
Contact app@SuperyachtOS.com for additional information.
---
The entity that submits this press release to SuperyachtNews.com hereby accepts sole responsibility for the facts, accuracy and completeness of the content. All content and mediums submitted are an acknowledgement of the suitability for publication. SuperyachtNews.com accepts no liability or responsibility for any inaccuracies or errors made by the submitter in this regard.
---
If you've found this story to be 'a report worth reading', and you would like to enjoy access to even more articles, insight and information from The Superyacht Group, then you may well be interested in our VIP print subscription offer. We are inviting industry VIPs to register for a complimentary subscription to our print portfolio, which includes the most insightful information on the state of the superyacht market. To see if you qualify for our VIP subscription package, please click here to fill in an application form