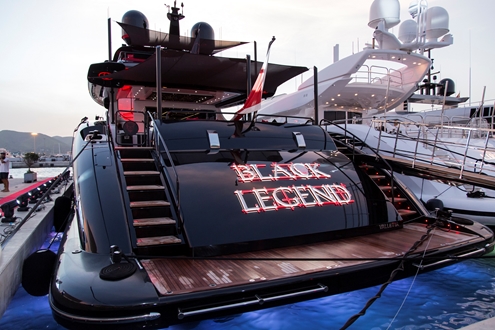 Last weekend Marina Ibiza lived a sunset and night of legend with the Mangusta presentation represented by Michl Marine for Overmarine Group in one of the premises of the marina itself, with the support of the prestigious watch brand Audermars Piguet.
With a cocktail held on the terrace of the Calma Restaurant, where you can enjoy the best views of the city of Ibiza, the event aimed to present the different Mangusta models which are currently on the market. Clients and friends of Michl Marine and Audermans Piguet were invited to an exquisite cocktail that lasted until after midnight.
At this presentation, there was an exceptional guest. One of the Mangustas which visits Marina Ibiza every year and that no one ever gets tired of admiring its peculiar aesthetics. Painted completely in black and red, exactly as all its support boats and with a skull as logo, it gives an enigmatic and sophisticated look wherever it goes. We are talking about the Black Legend, which shined like never before at night between the L.E.D.'s, scenery lights and smoke effects. It is one of the most loyal boats to the marina which every year visits the marina in the hands of Manfred Michl, owner of Michl Marine. And in this case, it was escorted by beautiful display illuminated cases by the most exclusive watches models from Audermans Piguet
An exclusive and relaxed atmosphere in a party in which Michl Marine, located in its commercial premises of Marina Ibiza, will undoubtedly repeat very soon with one of its events dedicated to the promotion of sale and charter of boats.
For more information about Mangusta, contact Michl Marine at
+34 627 020 070 or by mail to mm@michlmarine.com To see the photos of the event visit the social networks of Marina Ibiza: www.facebook.com/MarinaIbizaPort and http://twitter.com/marina_ibiza
---
The entity that submits this press release to SuperyachtNews.com hereby accepts sole responsibility for the facts, accuracy and completeness of the content. All content and mediums submitted are an acknowledgement of the suitability for publication. SuperyachtNews.com accepts no liability or responsibility for any inaccuracies or errors made by the submitter in this regard.
---
If you've found this story to be 'a report worth reading', and you would like to enjoy access to even more articles, insight and information from The Superyacht Group, then you may well be interested in our VIP print subscription offer. We are inviting industry VIPs to register for a complimentary subscription to our print portfolio, which includes the most insightful information on the state of the superyacht market. To see if you qualify for our VIP subscription package, please click here to fill in an application form