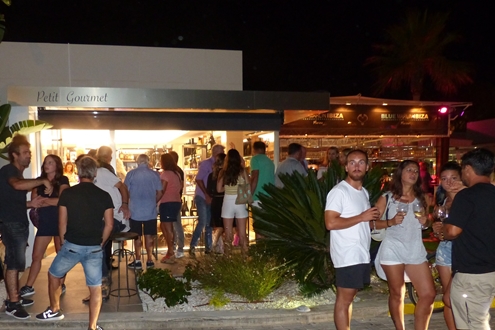 Original wines, from all parts of the world including some of the most exquisite, are examples that could be tasted at the Delicatessen shop in Marina Ibiza, Petit Gourmet, which offered a fun tasting for clients and friends.
In a relaxed atmosphere, the wine tasting was held in this small but stunning gourmet food and beverage store, which is proving to be a great success as it has become the perfect place to find a special gift to fit into any meal or dinner.
The tasting was guided by the specialist staff of the establishment itself, supported by wine culture experts who attended the event. Together, they tried to show the attendees the differences in sharpness, intensity, colour, aroma and taste of different varieties of wine and wineries, thus providing the basic knowledge to choose a type of wine for each occasion.
The star of the tasting was the winery from Señorío de Villarrica in La Rioja, which presented a special variety of reds, whites and rosés, wrapped in the artistic labels of the photographer Jordi Gómez. This cosmopolitan author has captured the different flavour essences in each of the images that are represented in the bottles, turning them into art pieces.
This tasting is the first of those that will continue to be celebrated throughout the month of September in this intimate place, in order to reveal new flavours and products of great quality, capable of surprising the most exquisite palates. Because the objective of this establishment is to become the new corner for lovers of exquisite taste to come and have fun.
---
The entity that submits this press release to SuperyachtNews.com hereby accepts sole responsibility for the facts, accuracy and completeness of the content. All content and mediums submitted are an acknowledgement of the suitability for publication. SuperyachtNews.com accepts no liability or responsibility for any inaccuracies or errors made by the submitter in this regard.
---
If you've found this story to be 'a report worth reading', and you would like to enjoy access to even more articles, insight and information from The Superyacht Group, then you may well be interested in our VIP print subscription offer. We are inviting industry VIPs to register for a complimentary subscription to our print portfolio, which includes the most insightful information on the state of the superyacht market. To see if you qualify for our VIP subscription package, please click here to fill in an application form