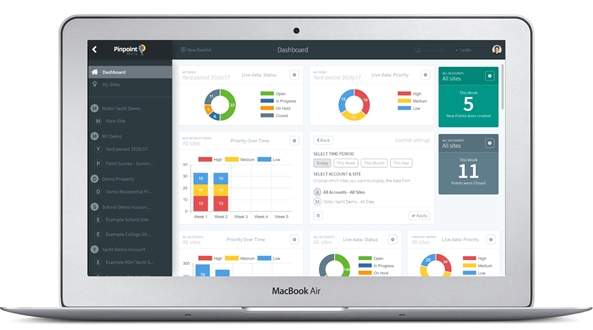 Pinpoint Works' new dashboard aimed at clients who manage multiple yachts
Last week, Pinpoint Works released their dashboard feature allowing users who manage one or more yachts an overview of their site. New features are often based on user feedback and the dashboard was created for clients including management companies, independent contractors and shipyards who require snapshots of data from their various accounts and sites.
Envisioned by long-term yacht crew member James Stockdale, Pinpoint Works was the answer to inefficient spreadsheets and endless email strings. Using web and mobile apps, users populate their worklists using a location pin on the yacht's unique GA (general arrangement). The worklist can be shared with other users, such as crew, management, contractors, and shipyards, to track works in real-time. Currently it's used on yachts ranging from 20 to 140 meters for new builds, refits, warranty periods and day-to-day maintenance.
"Pinpoint is constantly evolving to meet the needs of our users. We consider their feedback integral to the life cycle of the software which is why the app will never truly be 'finished'," says Stockdale.
Pinpoint Works has been on the market for almost a year and was debuted at the Monaco Yacht Show in 2016. Since then, the company has been working with some of the largest super yachts in the world and has also branched into land-based construction.
"We've have a fantastic group of early adopters so we're excited to see where their ideas take us," added Stockdale.
Pinpoint Works is currently being demoed online. To make an appointment or start a free trial, email James at info@pinpointworks.com or call +44.7980.164.643. http://www.pinpointworks.com
---
The entity that submits this press release to SuperyachtNews.com hereby accepts sole responsibility for the facts, accuracy and completeness of the content. All content and mediums submitted are an acknowledgement of the suitability for publication. SuperyachtNews.com accepts no liability or responsibility for any inaccuracies or errors made by the submitter in this regard.
---
If you've found this story to be 'a report worth reading', and you would like to enjoy access to even more articles, insight and information from The Superyacht Group, then you may well be interested in our VIP print subscription offer. We are inviting industry VIPs to register for a complimentary subscription to our print portfolio, which includes the most insightful information on the state of the superyacht market. To see if you qualify for our VIP subscription package, please click here to fill in an application form