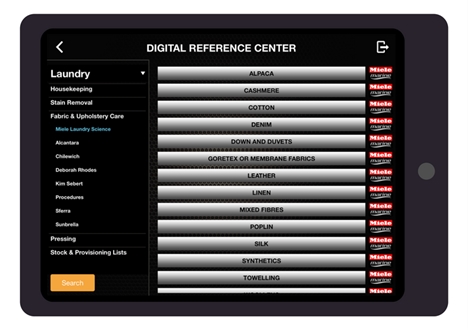 The Superyacht Operating Systems team will be providing demonstrations of the Total Superyacht Vessel Management Software and launching their brand new Digital Reference Center (DRC) at the Monaco Yacht Show.
The Digital Reference Center is an industry first resource for superyacht crew and luxury hospitality staff that are responsible for both luxury service and the maintenance and care of very expensive fit out. The SOS team observed crew reaching out to social media for advice and often receiving poor information from obviously untrained and inexperienced individuals.
Crew are tasked with such a variety of duties that it is simply not possible for them to be experts at everything and SOS believe that poor standards and unnecessary damage can be mitigated if crew have easy access to quality reference material.
SOS partnered with global experts to provide reliable information in the form of digital reference cards within the Total Superyacht iPad App resulting in a reference encyclopaedia for every department on board. The experts are of the highest calibre to ensure the reliability of the information and SOS will be making a series of announcements featuring individual experts.
For more information or to schedule a demonstration at the Monaco Yacht Show email
app@SuperyachtOS.com
---
The entity that submits this press release to SuperyachtNews.com hereby accepts sole responsibility for the facts, accuracy and completeness of the content. All content and mediums submitted are an acknowledgement of the suitability for publication. SuperyachtNews.com accepts no liability or responsibility for any inaccuracies or errors made by the submitter in this regard.
---
If you've found this story to be 'a report worth reading', and you would like to enjoy access to even more articles, insight and information from The Superyacht Group, then you may well be interested in our VIP print subscription offer. We are inviting industry VIPs to register for a complimentary subscription to our print portfolio, which includes the most insightful information on the state of the superyacht market. To see if you qualify for our VIP subscription package, please click here to fill in an application form