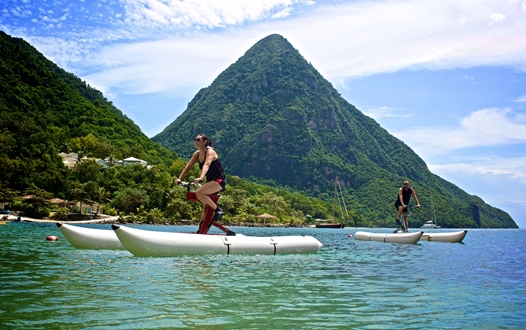 Schiller Water Bikes are a revolutionary concept in water travel and will be on display for the first time at the 50th Sydney International Boat Show.
Imagine the simple pleasure of a leisurely bike ride with friends and family, combined with a glorious trip out on the water. Schiller is a water bike above the rest.
Safe and stable in open water, the bike can be assembled in less than 10 minutes and has a compact footprint that will easily fit in most boat holds and cars. Yachting enthusiasts can jump straight on the bike, no training needed, no helmets and no limits to exploring your aquatic paradise. It can even go in reverse!
Schiller Bikes have partnered with Marine Riley and will be on display at booth 701 throughout the Sydney Boat Show. You can also catch the bikes in their natural habitat on the demo pool next to the booth at 13:45 each day.
Hailed as "the world's most radically redesigned bicycle" the S1-C is the best water bike in the world. Constructed out of marine grade alloys and stainless steel, it has proprietary propulsion, a high gloss carbon fibre outdrive, integrated handle bar steering and rugged high-pressure, drop-stitch pontoons that allow for easy transport, assembly and breakdown. Cruising speed is 4-5 mph and the S1-C can achieve speeds of approximately 10 knots per hour (10 mph / 16Kph) depending on rider ability.
The original S1 model has an anodized aluminium frame, is equipped with a proprietary drive train and comes with a durable, urethane coated outdrive and white 1100 denier, rugged pontoons. It even has a watertight compartment for drinks and snacks.

Schiller Bikes was founded on the daring belief that people should be able to bike across a blue planet. Developed with state-of-the-art engineering and design, the Schiller S1-C and S1 are simultaneously revolutionising yachting, water sports and cycling industries, enabling millions of people around the world to have an exhilarating, dynamic and safe biking experience on the water.
This is the next frontier in biking and water sports. One that has no learning curve (or paddles or uncomfortable seating in kayak hulls), and is accessible to all for fun, fitness, touring and adventure on almost any body of water.
With nearly one billion bikes around the globe built for land, Schiller is singularly focused on delivering its customers epic rides, trailblazing voyages and incredible sunset spins on a new aquatic terrain.
To arrange a meeting or interview with founder Judah Schiller during SIBS2017, or to find out more about Schiller Bikes please email pr@schillerbikes.com


---
The entity that submits this press release to SuperyachtNews.com hereby accepts sole responsibility for the facts, accuracy and completeness of the content. All content and mediums submitted are an acknowledgement of the suitability for publication. SuperyachtNews.com accepts no liability or responsibility for any inaccuracies or errors made by the submitter in this regard.
---
If you've found this story to be 'a report worth reading' and you would like to enjoy access to even more articles, insight and information from The Superyacht Group, then you may well be interested in our print subscription packages, which include the most comprehensive and up-to-date information on the state of the superyacht market. Subscribe here, to these 'Reports Worth Paying For'