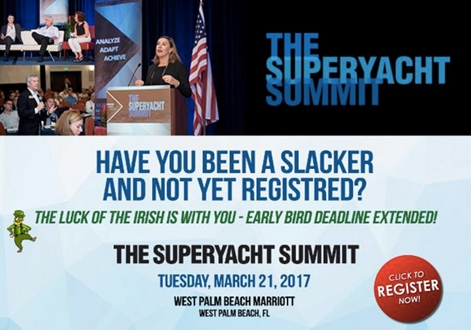 Have you Been a slacker and not yet registered? The luck of the Irish is with you - Early Bird deadline Extended!
The Superyacht Summit, Tuesday, March 21, 2017, West Palm Beach Marriott, West Palm Beach. Register Today - A "Must-Attend" Event! Compelling content, useful business tools and a balance of great networking opportunities! You get to tailor your own experience! 2 breakout sessions are also designed to offer lawyers the opportunity to gain 1 Ethics Credit each. Early Bird Registration extended for St. Patrick's day special - ends Friday, March 17, 2017
Members - $295.00; Non-Members - $350.00 After March 17, 2017 Members - $325.00; Non-Members -$395.00
For more information visit ussuperyacht.com or call 954-792-8666
Fourth Annual U.S. Superyacht Summit Set For March 21, 2017
West Palm Beach Marriott
WEST PALM BEACH, FL (February 22, 2017) - The 4th Annual USSA Superyacht Summit, the country's most prestigious gathering of regional, national and international superyacht industry partners, is returning to the West Palm Beach Marriott on Tuesday, March 21, 2017. The Summit, scheduled just prior to the Palm Beach International Boat Show, includes professional and personal development programming, networking, and action steps for the global superyacht industry. The 2016 event hosted nearly 150 industry leaders who were interested in networking, education and development. "On a scale of 1-10, I seriously give it a 12! It is the most beneficial summit or meeting I have attended for our Industry" explained Jim Ruffolo, President of Burger Boat Company.
Attendees get to tailor their own experiences from a program selection comprised of exciting presentations and smaller breakout tracks designed to improve the bottom line and promote personal development. Highlights of this year's Summit include "America's Strengths in the Superyacht Sector;" "The First Hundred Days: How the New Administration will Impact the Superyacht Industry;" "Cybercrime: Are You at Risk?" and other current topics of interest. Afternoon break-out sessions include business-building and management topics from legal, ethics, marketing, and finance experts. The day's programming is followed by a networking reception and cocktail party at the Marriott.
In 2016, attendees represented nearly all industry market sectors including marinas and shipyards, media, electronics, designers and engineers, yacht managers and manufacturers, superyacht captains, yacht brokers, professional services and service providers. This environment provides rich networking opportunities for all. Attendance is limited. Visit ussuperyacht.com to register or contact the U.S. Superyacht Association office at 954-792-8666 or via email at info@ussuperyacht.com.
The U.S. Superyacht Association (USSA) is a non-profit trade association incorporated in 2006, with the mission "To promote and support the U.S. Superyacht industry and its members worldwide through advocacy, marketing and education." For more information on the USSA and the 2017 Superyacht Summit visit ussuperyacht.com, call 800-208-5801 or email info@ussuperyacht.com. Like the USSA on Facebook at /USSuperyacht.
---
The entity that submits this press release to SuperyachtNews.com hereby accepts sole responsibility for the facts, accuracy and completeness of the content. All content and mediums submitted are an acknowledgement of the suitability for publication. SuperyachtNews.com accepts no liability or responsibility for any inaccuracies or errors made by the submitter in this regard.
---
If you've found this story to be 'a report worth reading', and you would like to enjoy access to even more articles, insight and information from The Superyacht Group, then you may well be interested in our VIP print subscription offer. We are inviting industry VIPs to register for a complimentary subscription to our print portfolio, which includes the most insightful information on the state of the superyacht market. To see if you qualify for our VIP subscription package, please click here to fill in an application form