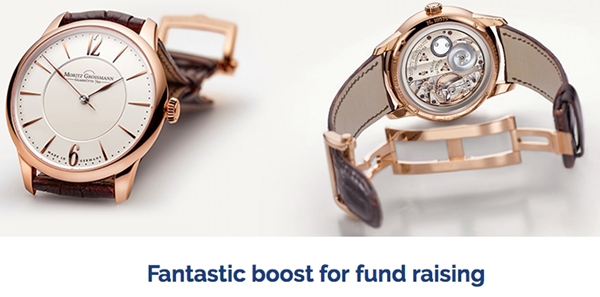 As part of the fund raising effort this year we are offering the chance to win a £25,000 watch.
You don't have to be coming to the Ball to be in for a chance to win. If your feeling generous you may even pass this on to your Yacht Industry friends to give them a chance…..
For your chance http://superyachtcharities.com/moritz-grossmann/
All you need to do is buy a ticket (or more if you wish) make sure you leave your name and contact details in the comments section.
On April 01st a ticket will be drawn and the winner will win a handmade £25,000 watch. Engraved with your name (or a person of your choice).
It could be you.
The proceeds will go to our 3 charities of the Superyacht Charity Ball 2017
http://superyachtcharities.com/charity-ball/
For those that don't know, we have raised ~ £160,000 in the last 2 years for various charities and continue in our efforts to do so.
---
The entity that submits this press release to SuperyachtNews.com hereby accepts sole responsibility for the facts, accuracy and completeness of the content. All content and mediums submitted are an acknowledgement of the suitability for publication. SuperyachtNews.com accepts no liability or responsibility for any inaccuracies or errors made by the submitter in this regard.
---
If you've found this story to be 'a report worth reading', and you would like to enjoy access to even more articles, insight and information from The Superyacht Group, then you may well be interested in our VIP print subscription offer. We are inviting industry VIPs to register for a complimentary subscription to our print portfolio, which includes the most insightful information on the state of the superyacht market. To see if you qualify for our VIP subscription package, please click here to fill in an application form