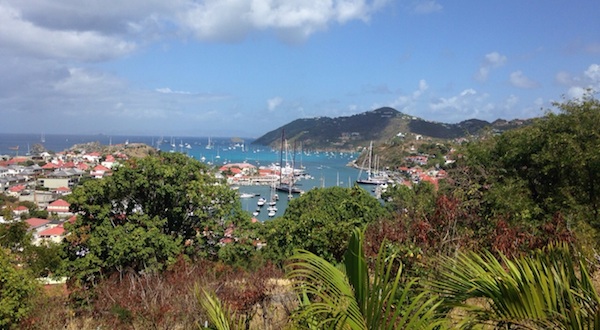 At an ORCsy meeting yesterday morning, captains, tacticians and superyacht designers gathered to clarify and discuss the new handicap system. The new rules were put into play for the first time at the Loro Piana Regatta in the BVIs last week, and according Peter Craig, the feedback from participating boats has been nothing but positive.
"When you have a designer come up and hug you on the dock after a race, you know you have done something right," joked Craig who stressed throughout the meeting that transparency was absolutely key with the ORCsy system and as such, dialogue and feedback was emphatically encouraged. "This is a fully transparent rule. If you have a conversation following a race with one of us about things you liked, things you didn't, follow it up in writing so we can all see the feedback and learn.
While owners probably don't need to know much of the science behind the new handicapping rules, there were some issues that were raised that will be of interest.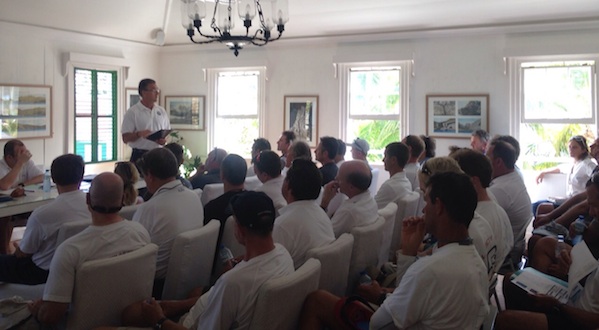 Being placed in the best and most suitable class for your yacht (Les Grandes Dames with mighty yachts like
Seahawk
or
Meteor
versus the light, fast Gazelles des Mers like
Visione
or
Inoui
for example) has always been key to ensuring races stay competitive but fair in a regatta where the participating yachts are so disparate. The largest complaint with the previous handicapping rule, the International Superyacht Rule (ISYR), was a lack of transparency typically regarding how and why certain yachts were lumped with others. With ORCsy's emphasis on greater transparency, Craig explained that owners of boats who are not easily classed into one particular class ("bubble boats" as he described them) are fully able to request a change of class. "There are bubble boats where anyone can make an argument for a different class," he said. "It is up to the owners here to come forward and ask for a change."
Something that was clear in the meeting was that any issues or disagreements were entirely up for discussion and debate, suggesting that ORCsy is going to be a rule that is continuously evolving to ensure it always makes sense and is fair. A case in point is the issue around handicapping after a yacht's spinnaker breaks. Under ISYR a yacht could get its handicap adjusted to the non-spinnaker handicap for the following race if their spinnaker broke. Under the new rules, the same thing applies. However, designer Andre Hoek - the creative force behind several of the yachts racing this week, including the Royal Huisman
Elfje
and last year's winner
Marie
- questioned whether this was a fair practice. "My personal opinion is that if it breaks, it breaks," he said. "Allowing a change of handicap is a slippery slope." Craig admitted that this was a topic of contention and asked for a show of hands from the room from people who thought this should not be allowed. More than half agreed with Hoek. While Craig said that the rule would not be changed for this regatta, if it was an issue, it would be looked at for the next one.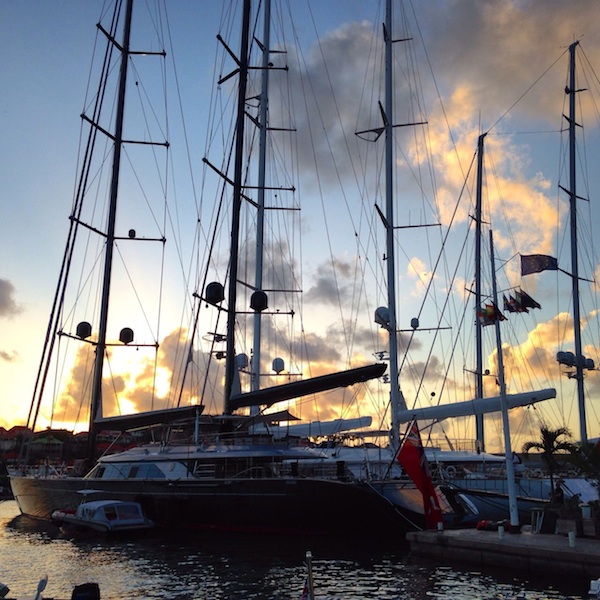 There are 35 superyachts participating in the Bucket this year compared to the nine that were at the Loro Piana Regatta in Virgin Gorda, so it is likely that the next three days of racing will shed some light on the good, the bad and the must-change of the new rule. In general though, it appears like the ORCsy has been warmly welcomed by captains and owners so far.
---
If you like reading our Editors' premium quality journalism on SuperyachtNews.com, you'll love their amazing and insightful opinions and comments in The Superyacht Report. If you've never read it, click here to request a sample copy - it's 'A Report Worth Reading'. If you know how good it is, click here to subscribe - it's 'A Report Worth Paying For'.