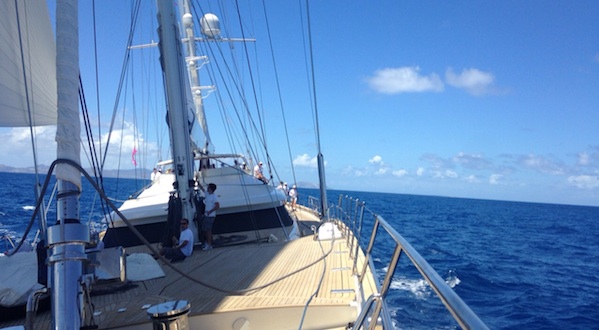 S/Y Zenji

"You know it's been a good race if as many people are on board at the end of the race as were on at the start of it," said Mary Boies, one of the owners of
Zenji
, addressing the crew on day two of the Bucket. " By that measure and many others, it was a great race."
By that measure and many others, it was not only a good race, but a good Bucket for
Zenji
. The 56m Perini finished third in her class (Les Grandes Dames) overall, which is an exciting achievement after her placing 8th in 2013 and 5th last year. The boat just came out of 10 months in the yard and the owners were eager to put the refreshed
Zenji
to the test in St Barths. "The crew has been working really hard to get the boat ready and we all practiced a couple days to make sure we were communicating well and sailing our best," tactician on board, Mike Toppa of North Sails told me. "Our practicing has meant that from our first race we worked very well as a team."
Every year in every class there are mini rivalries between particular yachts and this year
Zenji
and her sistership
Rosehearty
were locked in a microcosmic battle.
"It has been fun keeping up with
Rosehearty
,"said Toppa. "On day one,
Rosehearty
sailed really well. On day two they beat us again and it became apparent that they are just plain faster. Day three, really every day, we did everything we could to beat them - we sailed clean on Saturday especially - but we just couldn't hold them back." As sisterships,
Zenji
and
Rosehearty
are theoretically closely matched, but
Rosehearty'
s larger spinnaker gave them that undeniable speed advantage and it was joked on board that the owners would be investigating a larger sail soon.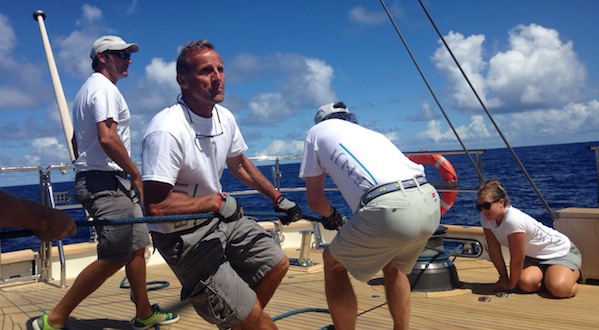 The crew on Zenji trimming the spinnaker


For Toppa, key to their clean sailing, better ranking this year and the owner's enjoyment of the regatta was the crew. "Owners should always think about a hiring race crew that has talent but also has the right personality," Toppa stressed. "I'll take personality over talent any day. There are three America's Cup sailors on board but you would never know it. Every one of these guys is great to be around. No egos." Race crew at regattas are a unique realm - they are a team that comes together for mere days and then disbands. So how do you build that short term team and make sure there is chemistry?
"Focusing on personality was our approach," said Toppa. "These guys have done it enough and are professional enough that they know how to approach this regatta individually and collectively so we can come at it as a team with the right approach for the boat in a four-day regatta."
Many owners who regularly participate in regattas hire effectively the same crew for each event, and have done so for years. Toppa is adamant that a good race crew is worth investing time in finding. "As I told David and Mary [Boies], this short term team that they have now is an asset," he said. "They can use that asset going forward if they choose. In another race, trying to keep the same crew together would make
Zenji
all the stronger."
---
If you like reading our Editors' premium quality journalism on SuperyachtNews.com, you'll love their amazing and insightful opinions and comments in The Superyacht Report. If you've never read it, click here to request a sample copy - it's 'A Report Worth Reading'. If you know how good it is, click here to subscribe - it's 'A Report Worth Paying For'.