The phrase "you get out what you put in" is as applicable to the world of superyacht ownership as it is anywhere else. Issue 17 of
The Superyacht Owner
talks to owners and experts about how, whether it is attention to detail during the build or refit, taking the time to use your yacht to race or explore, or investing in crew training, you will be rewarded by intelligently investing time, effort and money into your yacht.
The time and cost of a refit should never be underestimated, but the resulting yacht will inevitably be a truly tailored expression of what the owner is looking for. New owner Janet Martin (on the cover) had creating the perfect family charter yacht within budget in mind when she embarked on the refit of her M/Y
Sunshine
. Meanwhile, experienced owner Jan Verkerk is in the midst of creating the ultimate explorer charter yacht at ICON Yachts with the refit of his 77.4m M/Y
Legend
. For owner's rep Joseph Leone of Global Services and Management, the key to a successful refit is to run it as a business. Leone estimates that his management of the rebuild of M/Y
My Seanna
saved the owner between $8m and $10m by running it in the way did: as a business.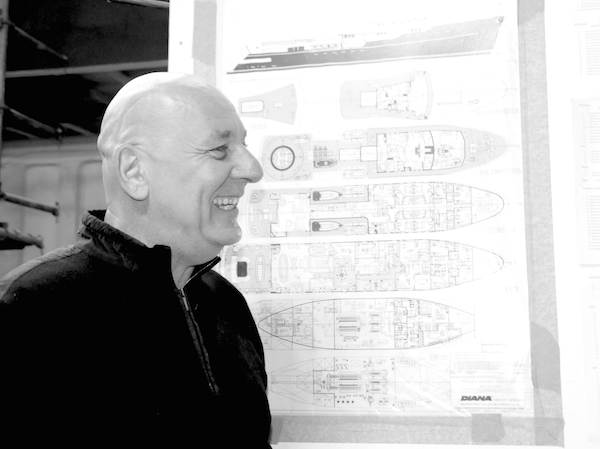 Owner Jan Verkerk in front of plans for his new icebreaking yacht, M/Y Legend.

Being hands-on is second nature for the owner of Benetti's
Mister Z
who is used to captaining his previous, smaller yachts, but so is making his yacht a successful business. He reveals his potential fractional ownership model and we ask three experts what owners wishing to embark on the fractional route need to know.
On the other side of the coin is the owner of S/Y
Meteor
, Dan Meyers. Happy to leave the build of the yacht completely to Royal Huisman, he and his boat partner John Risley only visited the yard once a year during the build and the yacht has always remained private. He has, however, put in serious time on board Meteor, racing her the world over while his Risley has cruised extensively. For him, any yacht deserves to be used as much as possible as it benefits the owner, the crew and the yacht.
---
Being hands-on is second nature for the owner of Benetti's Mister Z, who is used to captaining his previous, smaller yachts, but so is making his yacht a successful business.

---
It can be easy in the one-upmanship world of superyachts, to overlook the bijou appeal of the pocket superyachts offering high levels of customisation and innovation. Issue 17 explores how the Italians, in particular, are proving adept at identifying and servicing this active corner of the market and talks to Andrea Bocelli about his brand new pocket superyacht, the Gamma 20,
Libertas
.
The quest for destinations that offer luxury with soul and the services that a superyacht needs is an ongoing one for many owners.
The Superyacht Owner
visits the newly opened Marina at Christophe Harbour in St Kitts, the small island nation 32nm from St Barths, to see what this exclusive community, the passion project of superyacht owner Buddy Darby, will have to offer the market. On the other side of the world, we visit another potential passion project, the historic former presidential yacht
USS Williamsburg
, before she goes under the hammer in La Spezia in the hopes of finding an owner with vision and deep pockets to rescue her from the scrap yard.
A new section hosted by the Superyacht Intelligence Agency explains how in future it will use historic and current economic data, coupled with live and continuously updated fleet intelligence to show that what can often be considered a financial burden is actually a complex, yet manageable, investment. Manning editor Lulu Trask asks whether we can be doing more to ensure that this 'seven-star industry' really offers seven-star service by looking at how superyachts fair against their land-based counterparts in terms of the interior training on offer and the difference in service.
Finally,
Fincantieri Yachts
' CEO Giuseppe Bono and senior executive vice president of its megayacht business unit, Giovanni Romano, talk about the company's strengths and future strategies, and Dickie Bannenberg shares an extract from his new book on his father, the great Jon Bannenberg, that explores the close client/designer relationship between Jon and Gerald Ronson, CBE.
Subscribing members can view the magazine online,

here

. To become a subscriber, click here.
---
If you like reading our Editors' premium quality journalism on SuperyachtNews.com, you'll love their amazing and insightful opinions and comments in The Superyacht Report. If you've never read it, click here to request a sample copy - it's 'A Report Worth Reading'. If you know how good it is, click here to subscribe - it's 'A Report Worth Paying For'.