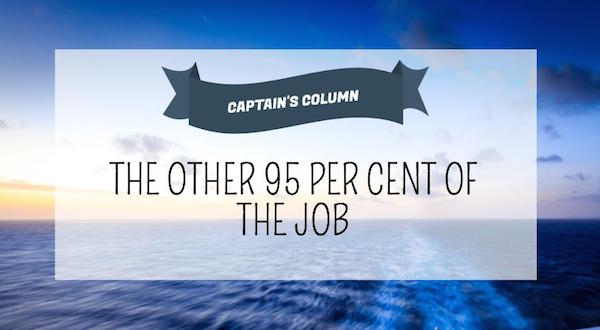 I was recently talking to my engineer about the move from first officer to captain. I went from first officer on a 55m to captain on a 37m. I sat with the owners while they purchased and built a 55m and now I'm sat on the 55m and in fact was running both boats. I was the owner's rep in the yard for the 55m and they wanted somebody with big boat experience with whom they could build a relationship in the long term, hence getting an experienced first officer and going from there.
But when I read about first-time captains suddenly starting to get involved in paperwork in an article on
TheCrewReport.com
, I'm shocked. It's my firm belief that first officers run the boat. They should be with the chief engineer doing all the flag audits, all the surveys, and work with the captain in an almost holistic approach. First officers run the boat on a daily basis.
I'm lucky with my first officer. People get hung up on this 3,000gt license but from September to April I never even drove the boat. What I did do was finish the build of a new yacht, crew a new yacht, set up a new yacht and deal with the owners' other yacht. Driving a boat is five per cent of the job. There are a lot of people out there who can drive superyachts but there are less who can manage them to the level owners want.
---
There are a lot of people out there who can drive superyachts but there are less who can manage them to the level owners want.

---
It's business. When you sit down and you've got to put a budget in front of an owner for millions, it's business management; it's hotel management. You listen at a different time, you speak at a different time, you have to deal with and build relationships with suppliers and with agencies in order to maximise the boss' enjoyment on board. It's much more 'bigger picture' stuff and I think there's a lot more to it than people think.
We move the hotel for the owner so we've got to pre-empt the owners' needs and we've got to understand the owners' needs; we've got to be able to relate to them and what they feel comfortable in. It's not about driving a boat on a 3,000gt ticket; our first mate navigates the yacht and I park it when the owner's on board – the first mate drives it the rest of the time.
There's a tendency for too many people, in my opinion, to say, "I've got my license, I can rush to the top", but are you rushing to fail or are you going to step up with experience and transition smoothly? There's a big, big difference.
---
If you like reading our Editors' premium quality journalism on SuperyachtNews.com, you'll love their amazing and insightful opinions and comments in The Superyacht Report. If you've never read it, click here to request a sample copy - it's 'A Report Worth Reading'. If you know how good it is, click here to subscribe - it's 'A Report Worth Paying For'.