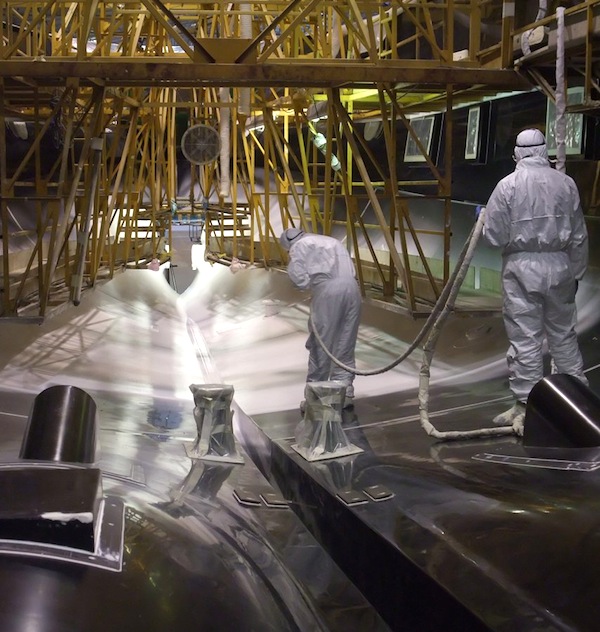 At the International Superyacht Coatings Conference in Amsterdam, paint professionals wrangled with what owners want versus what actually makes sense
As Martin Redmayne opined in an editorial in The Superyacht Owner magazine earlier this year, the first four letters in paint simply spell 'pain.'
Given the expectations that owners rightly have for their yacht's finish, what is the yacht painting industry doing to ensure owners get the best results?
For those of you who may be unaware, this is tremendously fraught territory.
Albert Willemsen, the technical director of ICOMIA described superyacht painting as one of the most emotional topics in yacht building.
It's easy to see why: The full process of coating a superyacht to a lustrous glossy shine can take up to a year, involve hundreds of workers applying layer upon layer of complex chemical compounds to slowly, carefully achieve a reflective surface that is often one of the first things a new owner and his friends and family sees.
Ten years ago, a yacht's captain would accept a paint job simply by looking at it in shipyard—but then still be held to account if weeks later in a different setting altogether, an owner or his guests felt they spotted some defect.
The matter has been complicated by subjectivity: One person's flawless surface is another person's wavy mess.
Tony Allen, superyacht attorney and partner with London law firm Hill Dickinson admitted that he deals with paint issues in contracts frequently.
A number of high-profile cases are currently making their way through courts. Paint can be a real nightmare.
But in Amsterdam, we took stock of the enormous progress that's been made towards ensuring that yacht owners get a verifiably excellent paint job arising from a consistent painting process—and almost as importantly, that everyone involved can agree about the quality.
Perhaps the biggest step in the right direction has been the adoption and acceptance of a registered marine coatings inspector certification course, which will start turning out certified paint job inspectors who all speak the same technical language and who all use the same methods and reporting systems.
It may sound esoteric, but this is a step that means that soon, an owner and a shipyard's own surveyors will be starting on the same page when it comes to how to assess the quality of finish.
No more situations of the yard pointing to a particularly shiny bit under the bow and claiming that's the proof of quality while the owner's rep is considering a patch around the exhaust outlets.
Something else that owners, potential owners and their representatives should be aware of is what the paint industry is doing to mitigate the impact of new environmental regulations and legislation around the world.
Unsurprisingly, paint is the subject of dozens of emissions regulations in the EU, the US, the IMO and in jurisdictions around the world: How it's made, labelled, applied, maintained and removed, as well as how it simply behaves (solvent emissions into the air, anti-fouling toxins leaching into the water) are all being scrutinised.
But everyone from the paint manufacturers, applicators, yards, insurers, lawyers and surveyors are all being kept right up to date with every sheaf of proposed new regulations so they can react and ensure whatever is finally imposed on industry and customers is manageable.
There are amazing technologies out there that are improving painting systems: At the conference, we were treated to new electrostatic spraying systems that reduce over-spray by upwards of 40 per cent and ionising air filtration systems that nearly eliminate dust and paint fumes from the air within the paint shed.
There are new extended warranty programs being developed by shipyards and greater awareness of how sandpaper and abrasives at the bottom layer of filler can impact the final visual appearance of topcoat.
Paint is like its own small universe of issues, ideas, innovations and personalities.
In short: a lot is happening in the paint world, and while most owners frankly will be far too busy to either care or notice (until it goes wrong), it's crucial the buying market understands that when it comes to how your yacht looks, there smartest guys in the room are all working incredibly hard to make sure all you ever need to think about is enjoyment.
Take a closer look at the recent
program and the sponsors who've supported it here
.
---
If you like reading our Editors' premium quality journalism on SuperyachtNews.com, you'll love their amazing and insightful opinions and comments in The Superyacht Report. If you've never read it, click here to request a sample copy - it's 'A Report Worth Reading'. If you know how good it is, click here to subscribe - it's 'A Report Worth Paying For'.