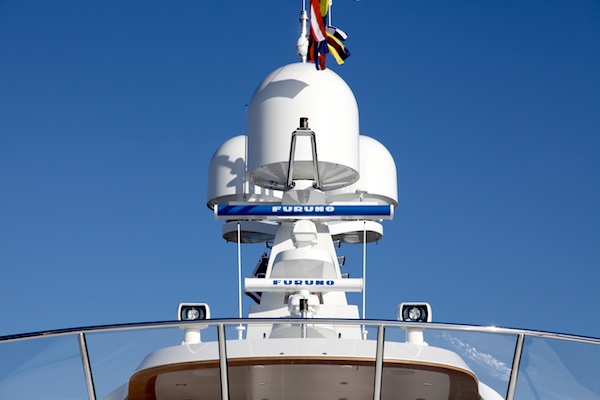 An advance-look at what's on the horizon for superyacht owners and operators when it comes to keeping the vessel connected with fat bandwidth at the lowest reasonable cost
At the Marine Equipment Trade Show (METS) in Amsterdam last week, superyacht satellite communications specialist e3 Systems hosted a morning update on the latest technological hurdles that have been overcome and provided a look ahead to what owners and operators of superyachts can expect next—then sold a solution to an owner in the audience at lunch afterwards.
One of the most interesting developments in recent years has been what e3 terms the hybrid approach: A yacht uses the least expensive and most sensible network connection available to it at any given time to deliver the best quality experience aboard for the least cost.
Roger Horner explained that e3 has developed an aggregator that allows yacht operators to bundle a series of SIM-cards from several different operators so that a yacht can be sailing along the Mediterranean coast with a stack of national SIM-cards and pick up signals as they become available.
"All of the potential bandwidth can be aggregated into one pipe for the yacht without any user intervention happening," Roger Horner, managing director of e3 Systems explained.
"We can then add in the VSAT as well so that if the yacht is offshore and out of range of the 3G/4G, we'll pull down satellite data, but switch to shore-based data as it becomes available," he said.
The ideal vision is a pay-as-you-go system in which a yacht, travelling at sea would use its satellite bandwidth and only pay for the amount of data it sent and received, then when close to shore automatically switch over to 4G networks for relatively cheap and fast access.
In the audience listening that morning was the owner of
Seven Sins
, who after the seminar closed a deal with e3 for just such a system.
The owner of
Seven Sins
explained to TheSuperyachtOwner.com exclusively that his yacht had increasingly been struggling with broadband communications on board, where they were relying on a VSAT connection they'd installed in 2006.
"The results were magnificent at first but over the last four years the efficacy of our hardware began to drop to this year when we had really poor connection," the owner said.
"It's easy to understand: now when we welcome guests aboard for a drink on the main deck aft, eight out of ten will want to access the internet from their mobile phones via our Wi-Fi," he said.
Seven Sins
' VSAT bandwidth provision wasn't coping with the data downstream required—a common situation that will become worse as data and entertainment streaming levels continue to increase.
Seven Sins
' owner said it made no sense to him to continue to upgrade their contract with their VSAT bandwidth provider every year for what he believes is an astronomical sum of money and still have guests aboard unhappy with the data and internet services.
"e3 Systems' seminar at METS in Amsterdam illuminated the problem and offered a creative solution: Yachts should diversify their data provisioning across different hardware and not just rely on internet capacity via VSAT," he said.
"As most vessels cruise on charter close to the coast, an ideal solution is to install a high capacity GSM antenna connected to a range of SIM-cards for every country in the Med," he said.
"This solution provides huge data capacity for a reasonable price, and effectively makes your VSAT system the back up."
During the seminar Tony Holland, airtime and contracts director at e3 Systems said that currently, a pure pay-as-you-use satellite bandwidth subscription is not yet available, but that interesting solutions are available and software-driven systems in the pipeline will offer even greater flexibility.
"You can approach your satellite provision as a back-up service, though you have to pay a base contract for 12 months to get access to the bandwidth," Holland explained.
If an owner or a guest needs to watch a digital streaming channel for the big match, for instance, one needs to book an extra week or month or season with the satellite provider in advance to get the bandwidth needed.
"The complaint we get all the time is that often captains and managers don't know exactly when the owner is going to be aboard, so they either have too much or not enough satellite bandwidth for what's required," Holland said.
"We are very close to being able to push a button when the owner comes aboard and the extra bandwidth is automatically provisioned," Holland said.
New software-based bandwidth management systems that are coming on-line in the next year will be able to go one step further: "When you board the yacht and your mobile connection via the yacht becomes live, the system automatically allocates bandwidth to you and your guests according to a pre-arranged set of rules," Holland said.
Bandwidth has to be provided by the satellite operator, rather than a retailer, because they're the only ones who know how much bandwidth is available at any given time.
In the next few years, Holland said, yacht communication integrators or a retailer of bandwidth could provide the service by balancing deals with the various satellite bandwidth providers (Eutelsat, Inmarsat, Intelsat and others).
"Provisioning bandwidth like you would provision a pre-paid SIM-card is very desirable for a large part of the yacht market, and that's the way we see things going in the next 12 months to two years," Horner said.
---
If you like reading our Editors' premium quality journalism on SuperyachtNews.com, you'll love their amazing and insightful opinions and comments in The Superyacht Report. If you've never read it, click here to request a sample copy - it's 'A Report Worth Reading'. If you know how good it is, click here to subscribe - it's 'A Report Worth Paying For'.