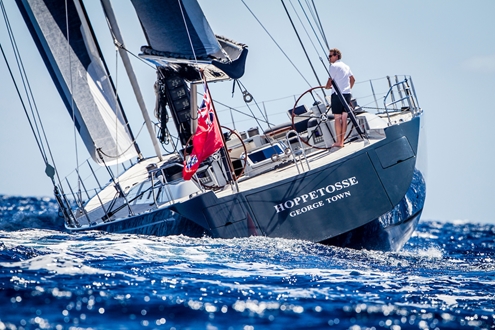 The unsurpassable sight of billowing sails, the sound of rushing waves and a feeling of being connected with centuries of maritime history: those lured in by the romance of sailing can rest assured that there will be plenty to admire at the forthcoming Palma Superyacht Show.
Nautor's Swan Brokerage will be exhibiting a range of remarkable yachts which illustrate this point perfectly: GREY GOOSE, ALIX, HOPPESTOSSE and SONG OF THE SEA. 'Swans' are known the world over for their exceptional attention to detail and quintessential elegance and the aforementioned four yachts can certainly attest to this.
We're also very excited to announce that the upcoming edition will be the first official event for Oyster Brokerage following the recent purchase of Oyster Yachts by Richard Hadida. Oyster Brokerage will be showcasing two flagship builds: Oyster 885 BACCHUS and Oyster 825 MAEGAN. Both are very easy on the eye, to say nothing of their sailing prowess: MAEGAN and BACCHUS have each performed very well on the regatta circuit.
Win a Harley Davidson with Port Tarraco Works!
Port Tarraco Works will be present for the second time to provide captains and owners the perfect opportunity to discuss future refit projects. The Spanish shipyard will also be hosting a competition enabling one lucky winner to rumble out of the show's doors like a boss, i.e. while riding the most quintessential American two-wheeler: a gleaming Harley Davidson.
While on the subject of well-built and fast-paced means of transportation: we're proud to announce this year's inauguration of a dedicated superyacht tender area. With their ability to whisk guests to terra-firma in nothing flat tenders make for the one crucial accessory every superyacht should have. And as tenders are continuously evolving and adapting to the market's needs we're certain this area, like Refit & Repair, will grow year by year.
Precision Marine and the Refit and Repair area
This year's second edition of the Refit and Repair area, a sector which distinguishes itself from the rest of the show by specifically targeting yachting's experts and professionals, will feature 25 % more stands in comparison to last year. One of the locally based companies which have been supportive of the Refit & Repair area since its conception, is engineering specialist Precision Marine. Company founder Andrew Wilcox commented: "We have participated with the show since the start and are proud to have been part of its development over the years. However, we always felt that there was a need for a section aimed directly at the industry's professionals, which is why we became one of the main promoters of the Refit & Repair Area. A sector we strongly believe will further bolster Palma's nautical industry on the international map".
Photography courtesy of Oyster Brokerage & Nautor's Swan Brokerage, Hoppetosse ©Jesús Renedo
---
The entity that submits this press release to SuperyachtNews.com hereby accepts sole responsibility for the facts, accuracy and completeness of the content. All content and mediums submitted are an acknowledgement of the suitability for publication. SuperyachtNews.com accepts no liability or responsibility for any inaccuracies or errors made by the submitter in this regard.
---
If you like reading our Editors' premium quality journalism on SuperyachtNews.com, you'll love their amazing and insightful opinions and comments in The Superyacht Report. If you've never read it, click here to request a sample copy - it's 'A Report Worth Reading'. If you know how good it is, click here to subscribe - it's 'A Report Worth Paying For'.