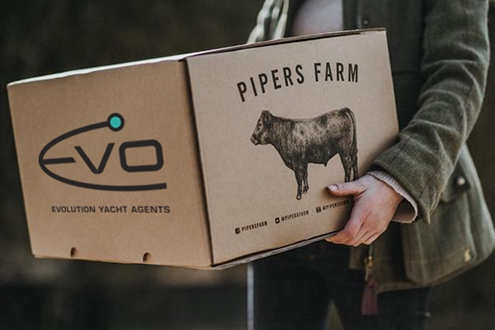 Evolution Yacht Agents and Pipers Farm have signed an exclusive agreement to go beyond expectations for the most demanding meat lovers on-board.
Who is who?
Pipers Farm is a British meat supplier producing award-winning cuts sustainably, in harmony with nature and in line with the Slow Food movement which strives to preserve traditional and regional cuisine and encourages farming characteristics in balance with the local ecosystem. The Pipers Farm mission is based on the deep-rooted beliefs of small-scale mixed farming with ethical producers who they know and trust. Their meat has been recognized for its exceptional quality and commitment to welfare.
Evolution Yacht Agents is a registered yacht agent offering a comprehensive and bespoke service to superyachts in all major Spanish ports. They provide an in-depth knowledge of the local superyacht market as well as the Spanish navigational and customs regulations. Their extensive network of contacts, great expertise and wide range in-house resources make them the #1 yacht agent to choose when entering Spanish waters.
Why is this partnership important to superyachts?
Evolution is the official superyacht supplier for Pipers Farm in the Spanish superyacht industry.
This agreement enables Evolution to deliver Pipers Farm's unbeatable meat products to all superyachts visiting Spanish waters, which in turn allows chefs to present the best quality and healthiest meat to their guests, owners and crew
Evolution's dominance in the Spanish superyacht community provides Pipers Farm with a platform upon which they can 'spread the word' about the benefits and advantages of their produce directly to chefs who are cooking every day and searching for the best produce to work with.
Thus, it is not only a win-win collaboration for both companies, but chefs are a third winning party also - they are after all an equally important player in the game of meat provisioning.
Colin Clark, Head of Provisioning Department at Evolution, is excited about this special collaboration. "After more than 10 years working with chefs, we know exactly the level of expectations of our customers and we have to meet their needs every time. This collaboration with Pipers Farm will raise the bar that bit higher for everyone and that is what this industry is all about - being better than the best", claims Colin.
Evolution and Pipers Farm are now working together in order to guarantee yet another exquisite experience to superyachts, starting from now.
Feel free to contact Evolution info@evolutionagents.com or +34 93 225 45 45 for meat orders.
---
The entity that submits this press release to SuperyachtNews.com hereby accepts sole responsibility for the facts, accuracy and completeness of the content. All content and mediums submitted are an acknowledgement of the suitability for publication. SuperyachtNews.com accepts no liability or responsibility for any inaccuracies or errors made by the submitter in this regard.
---
If you like reading our Editors' premium quality journalism on SuperyachtNews.com, you'll love their amazing and insightful opinions and comments in The Superyacht Report. If you've never read it, click here to request a sample copy - it's 'A Report Worth Reading'. If you know how good it is, click here to subscribe - it's 'A Report Worth Paying For'.