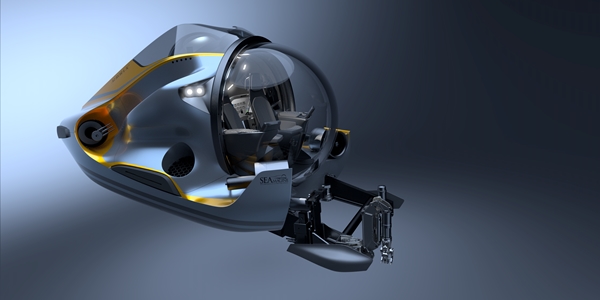 SEAmagine Sets the Ultimate Standard in Personal Submarines with the Unveiling of a New 3-Person Submarine
Meet Aurora-3C: The Underwater Adventurer's Dream Machine
Release Date: September 7, 2018
SEAmagine has been defining ingenuity in submersible engineering for over two decades and the company's brand-new Aurora-3C model is truly an underwater adventurer's dream machine. This exquisitely crafted personal submersible defines excellence in design, elegance, performance, safety, and comfort alike.
Announcing this month, the new Aurora-3C, SEAmagine's latest 3-person submarine, will be at the forefront of conversation for those visiting the company's booth (Booth #QH10) at the 2018 Monaco Yacht Show (Sept. 26th – Sept. 29th).
Over the past twenty-two years, the California-based SEAmagine Hydrospace Corporation has manufactured small, personal submarines with passion, imagination, and precision engineering at the helm of their operation. The Aurora-3C is, thus far, the crowning jewel of their never-ending drive to create the ultimate underwater experience for sea-adventurers via this new vessel's unbelievable field of view, spacious environment, exceptionally easy boarding and exiting arrangement, and its unparalleled safety and comfort.
OVERVIEW
Compact and lightweight in design, this new, 3-person, luxury submarine offers the most spacious interior and comfortable entry arrangement in its weight category. With a diving depth of 457 m, this model has a dry weight of only 3,800 kg and its large, front acrylic window along with the second 180-degree hemispherical window integrated into the entry hatch offers passengers and the pilot an expansive field of view in all directions. Compact in its external configuration while still spacious in its interior, this vessel has a low height and an even lower hoist point making it ideal for setup in confined spaces. To ensure safety and comfort during boarding, this ABS-classed submersible turns into a high freeboard platform when floating at surface, and the top deck's retractable handrails guide passengers to a staircase going through an extra-large entry hatch leading to the leather seating area, featuring a panoramic view of the underwater world.
STYLE & COMFORT WITH BENEFITS
Aboard the elegant, air-conditioned cabin, two passengers are seated in the front two luxury leather seats with the pilot sitting in the equally comfortable center-rear section. The passengers' custom seats have a covering of stitched leather and were designed specifically for this particular submarine interior to maximize comfort while ensuring the optimum in ergonomics. Each passenger seat features a leather-covered side armrest equipped with a, high-tech, user-friendly computer screen where passengers can choose between displaying diving depth and navigation data or streaming the HD video camera feed from the underwater camera located externally on the front of the craft. Furthermore, these passenger armrests are each fitted with a BOSE® sound system which can be connected to passengers' smartphones through Bluetooth technology.
The Aurora-3C's incredible field of view, provided to the three occupants via the large front acrylic window, is greatly enhanced by the vessel's patented design. This craft is unencumbered by the requirement of long, forward pontoons which restrict peripheral viewing from the front and are often found in traditionally designed submersibles. To further maximize views, the access hatch holds a large second window which is surrounded by a clear windshield. In addition to the breathtaking front view, this second window provides the rear pilot with a remarkable upward, sideways and rear view. Not only does this 180-degree, acrylic hemisphere offer a significant additional field of view, it also invites a lovely cascade of natural light into the cabin.
POWERFUL ELECTRIC VESSEL
This fully electric vessel is powered by the latest lithium polymer battery technology and consists of 6000 m depth-rated, pressure-balanced batteries installed externally in two separate oil-filled compartments, providing 40kWh of power, The Aurora-3C's hydrodynamic design, equipped with six powerful propulsion thrusters, has over 600 Kg of thrust, and the thrusters' arrangement, controlled from a single joystick, offers ultra-high agility of movement under water in all directions. With direct drive, (no gearbox) and 90% reverse thrust, these thrusters also offer a perfectly smooth response when starting and stopping. To engage passengers in the most thrilling of underwater adventures, a second, optional, handheld joystick control is available to front passengers affording them the opportunity to maneuver the craft under the supervision of the trained pilot who always maintains override capability from the main rear control station.
SPECIAL SAFETY FEATURES
The Aurora-3C is designed to be positively buoyant at all times and, for this reason, the vessel will always want to rise up and float to surface when it is under water. This submarine is kept under water by two vertically-oriented thrusters which push it down and control the diving depth. Should the propulsion system be turned off, the vessel will always gently float back to surface on its own due to its natural positive buoyancy. This feature makes the submarine intrinsically safe. As another safety feature, the Aurora-3C is equipped with a robust emergency buoy release system that can be activated either by the pilot or remotely through the water by the topside support crew. This Emergency Buoy's tether is attached to the submarine by a 600 m long coiled line which has a 3900 kg breaking-strength rating. The Aurora-3C is the only submarine in its weight and size category with such a substantial emergency buoy release system.
TECHNOLOGY AT HAND
With underwater lights, a robotic arm, sonar, HD camera filming, and a sophisticated navigation system, this vessel is equipped with the latest subsea technology in every aspect of its design. A total of twelve highly efficient, powerful, underwater LED lights mounted around the vessel provide exceptional lighting when deep under water where the sunlight does not reach. The pilot and the two passengers each have access to the external HD camera through convenient, hand-held controls and everyone can take turns filming using the monitors mounted on each armrest. Similarly, all three occupants can use the hand-held controls to direct the robotic arm giving them the ability to pick up items from the seafloor.


STAIRCASE WITH HANDRAILS ENTRY & EXIT
The Aurora-3C entry and exit arrangement for passengers is superior to all other submarines in its weight category. The top deck, made of synthetic teak decking, offers an excellent boarding platform supported by two retractable hand rails on each side. A staircase leads passengers to the large entry hatch located over the pilot seat, and the pilot seat transforms itself into two additional steps extending the upper staircase all the way inside to the cabin floor. Once inside, passengers are assisted in securing themselves into their individual seats by sturdy handles on the sides of each front seat. The remarkable amount of space within the very large entry hatch and the roomy entry area inside the submarine hull is a standout feature unique to the Aurora-3C which distinguishes it from any other, compact submarine designs.
SUBMARINE PILOT TRAINING
SEAmagine offers a comprehensive submarine pilot and support crew training program which the company initially developed twenty years ago in conjunction with the U.S. Coast Guard. The program has since evolved into a well-structured, highly effective training curriculum that SEAmagine conducts on a worldwide scale. Depending on the number of trainees, the training curriculum (in combination with the setup of a new submarine on a yacht) will typically take around three to four weeks to complete.
SEAMAGINE THE COMPANY
SEAmagine Hydrospace Corporation is a California based company established in 1995 and a leading manufacturer of small manned submersibles with over 12,000 dives accumulated by its existing fleet. The company produces 2 to 6 person models of its submersibles for depths from 150 meters to 1500 meters deep. All SEAmagine submersibles are classed by the American Bureau of Shipping (ABS) and are approved by the Cayman Island Shipping Registry. SEAmagine's submersibles have been used in scientific, commercial, and superyacht sectors and have also been used in numerous film projects produced by National Geographic, BBC, and others. SEAmagine maintains a flawless safety record, has built a solid track record of reliability and practicality over the past 24 years in both the professional and superyacht markets, and has garnered an enviable reputation for reliable, top-tier support worldwide.
For More Information Please Contact:
Direct Contact:
Charles Kohnen
charles.kohnen@seamagine.com
Tel: +1.909.626.6262
SEAmagine Hydrospace Corporation
2133 Porterfield Way, Unit A
Upland, CA 91786, USA
Website: www.seamagine.com
---
The entity that submits this press release to SuperyachtNews.com hereby accepts sole responsibility for the facts, accuracy and completeness of the content. All content and mediums submitted are an acknowledgement of the suitability for publication. SuperyachtNews.com accepts no liability or responsibility for any inaccuracies or errors made by the submitter in this regard.
---
If you like reading our Editors' premium quality journalism on SuperyachtNews.com, you'll love their amazing and insightful opinions and comments in The Superyacht Report. If you've never read it, click here to request a sample copy - it's 'A Report Worth Reading'. If you know how good it is, click here to subscribe - it's 'A Report Worth Paying For'.