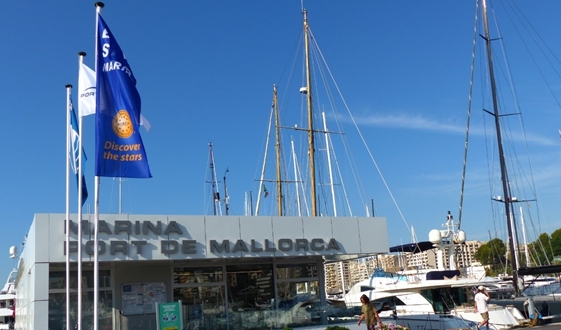 Marina Port de Mallorca has been recognized with the category of 5 Stars Marina, a prestigious award given by the International Marine Certification Institute (IMCI) that only a few marinas enjoy in the world. Specifically, in Spain, there are only four with the same category -, among them, Marina Ibiza also belongs to the IPM Group. This is achieved because it demands quality standards in services and facilities which only the very best marinas can offer.
In words of Patrick Reynés, Manager of Marina Port de Mallorca, "to get this award is the well-deserved recognition of the dedication and efficiency and constant work for 18 years, of the whole team which makes Marina Port de Mallorca stay at the highest level of quality, professionalism, safety and environment".
With the renovation of its facilities, Marina Port de Mallorca has strengthened its position in the ranking of Mediterranean marinas. One of the factors of considerable improvement has been the adaptation of the marina to provide better service to its customers both in mooring and on land. Its facilities are currently more functional and comfortable as well as having new and modern operating systems such as light and water towers, bathrooms and showers for customers as well as pumping out of bilge/grey waters and sewage on boats among many others.
There is no doubt that one of the reasons why Marina Port de Mallorca is chosen, is because of its location. It is located closet o some of the best destinations in which to sail and is also in the heart of Palma de Mallorca, on the promenade, with an offer of leisure, entertainment, gastronomy and shopping just one step away from the Marina. An important reason for having achieved this unique category is the special attention that the marina provides to two vitally important issues: safety and environment.
The security protocol implemented for clients, vessels and employees is rigorous and constant. Personnel are regularly instructed to act diligently in case of emergency and the marina's equipment is prepared for any unforeseen event. Fire drills and first aid are also carried out.
On the other hand, the efficient policy of environmental management is another remarkable factor since not only the marina takes measures of protection and preservation of the environment seriously. In addition, the saving of resources, the use of anti-pollution products, the reduction of the environmental impact of the carbon emissions, and the implementation of actions aimed at disclosing and generate client's awareness and participate actively in this aspect. Activities and informative events aimed at customers, posters with environmental tips located in different places of the port or punctual communications of special activities such as the rescue of turtles or the recycling of plastics are some of the actions that have positioned Marina Port de Mallorca at the top of its sector.
Finally, and as part of its added value services, the marina offers an exclusive Concierge service for its clients with the intention of providing personalized assistance in everything they need during their stay and even before their arrival, such as the rental of a car, the provisioning of the boat, the catering for a special dinner, cleaning on board, reservations in restaurants, or nautical services their boat needs.
It should be noted that this constant effort of Marina Port de Mallorca to maintain high standards of commitment to quality in all facets of its operations, have made the certification of Marina 5 Stars, but none of this would have been possible without the team of professionals that is part of this port. It is considered one of the marinas with the highest customer loyalty index in Mallorca.
And the fact is that the Marina Port de Mallorca team, in addition to a great vocation for the sea and good customer service, is already known for having made friends who were first clients and now are unconditional lovers of their facilities.
Marina Port de Mallorca also boasts well-known, management systems such as ISO 9001, 14001 and OHSAS 18001, and awards such as registration in the Carbon Footprint register, EMAS, Blue Flag, Excel.lent Company, Gold Certification of Marinas and Balearic Quality.
---
The entity that submits this press release to SuperyachtNews.com hereby accepts sole responsibility for the facts, accuracy and completeness of the content. All content and mediums submitted are an acknowledgement of the suitability for publication. SuperyachtNews.com accepts no liability or responsibility for any inaccuracies or errors made by the submitter in this regard.
---
If you like reading our Editors' premium quality journalism on SuperyachtNews.com, you'll love their amazing and insightful opinions and comments in The Superyacht Report. If you've never read it, click here to request a sample copy - it's 'A Report Worth Reading'. If you know how good it is, click here to subscribe - it's 'A Report Worth Paying For'.