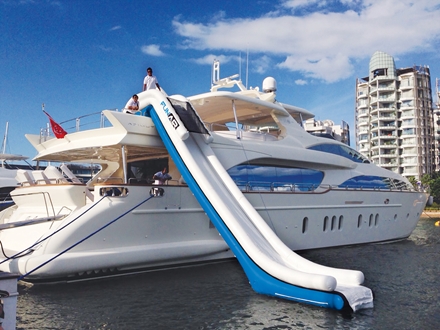 Innovative team players FunAir have announced a partnership with Sydney based superyacht supplier, Marine Riley. They will be exhibiting at the Gold Coast International Boat Show from Friday 17th March until Sunday 19th March 2017 with a large compliment of FunAir products on display.
Watch out for the popular Adjustable Yacht Slide, Water Mat and the launch of the FunAir Lagoon Pool – Aussie Edition. This 3 x 4 meter pool has been designed specifically to inflate the fun for the Australian yachting community during trips on the water with friends and family.
It's made from a new material so it folds and packs 30% tighter and lighter than industry standard pools. The pool uses a high-grade mat for the netting to keep out even the smallest critters, and it's so fine they've added a lockable zipper so water can be quickly released from the pool when it is being packed away. Plus you can use the adjustable weight system in each corner to accommodate changes in ocean conditions.
Marine Riley supply high-quality motor yachts, sailing yachts and top notch marine and water sport related merchandise from around the world, with a key focus on tenders, trips and toys. They stock FunAir inflatable products for yachts, including Quick Ship items that can be delivered from website to water in just 72 hours. Perfect for those last minute trips or charter vacations.
FunAir are well-known for their fully custom portfolio of yacht toys as well as being the only inflatable toy manufacturer that can get products shipped globally in three days or less. John Courtney, MD of Yachting at FunAir commented, "We love working with the guys at Marine Riley. They have an excellent knowledge and understanding of the marine market, with a specific focus on luxury boating and yachting. They travel the world extensively to provide marine and water sports enthusiasts with the very best and latest available. FunAir definitely compliments the entire range at Marine Riley. "
Mark Riley, Founder and CEO of Marine Riley said, "The team at FunAir have been so supportive. Their knowledge and understanding of the market and amazing enthusiasm allows them to create products that have great demand throughout the world. We want people to enjoy every aspect of being out on the water and enhancing their experience, which is exactly what FunAir is all about."
To find out more about FunAir, please email yachting@funair.com or call +1 512 751 4276.
To contact Mark Riley from Marine Riley, please email mark@marineriley.com.au or call +61 418 250 727.
www.funAir.com
www.marineriley.com.au
---
The entity that submits this press release to SuperyachtNews.com hereby accepts sole responsibility for the facts, accuracy and completeness of the content. All content and mediums submitted are an acknowledgement of the suitability for publication. SuperyachtNews.com accepts no liability or responsibility for any inaccuracies or errors made by the submitter in this regard.
---
If you've found this story to be 'a report worth reading', and you would like to enjoy access to even more articles, insight and information from The Superyacht Group, then you may well be interested in our VIP print subscription offer. We are inviting industry VIPs to register for a complimentary subscription to our print portfolio, which includes the most insightful information on the state of the superyacht market. To see if you qualify for our VIP subscription package, please click here to fill in an application form