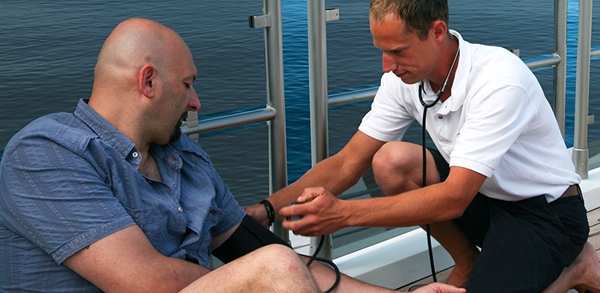 NEW SERVICE TO MEET CLIENT DEMAND FOR TEMPORARY MEDICAL STAFFING
Farnborough (9, March 2017) - MedAire, an International SOS Company - the world's leading provider of medical, security and travel services for yachts - will now offer short to medium term placement of highly qualified medical professionals as another yachting safety service offering. MedAire places experienced doctors, nurses and paramedics, who remain under their employment, onboard yachts anywhere in the world to ensure the best possible onboard care.
"Many of our clients are looking for a short term medical staffing solution," said Steven Bates, General Manager of Yachting for MedAire. "As clients are travelling to increasingly remote locations, may be engaging in high adrenaline sports and riskier activities, or may have a guest that needs extra medical care, there is now the option to add a doctor or paramedic on board for a period of time."
Medical Personnel remain under MedAire employment, and have up to date insurance, offering convenience to clients who may not want or need to recruit and hire a full time nurse or doctor. MedAire, through parent company International SOS, has a strong candidate pool of medical professionals familiar with working in remote environments and can make a placement quickly based on the client's specifications.
"We are uniquely positioned with the right expertise and resources to provide this service as part of our best in class safety solutions for yachting clients," continued Steven Bates.
MedAire has been providing remote medical assistance for over 30 years, and works closely with yachting clients to provide best-in-class safety solutions including MedLink remote assistance, medical kits, crew training and medical room consultancy.
To learn more, visit
http://www.medaire.com/yachts
.
About MedAire
MedAire, an international SOS company, partners with yachting clients to keep guests and crew safe whilst travelling, wherever you go. Our world class remote medical and security assistance, medical kits, crew training and custom new build solutions provide you with the right resources to take the best care of crew, owners, passengers, guests and assets.
---
The entity that submits this press release to SuperyachtNews.com hereby accepts sole responsibility for the facts, accuracy and completeness of the content. All content and mediums submitted are an acknowledgement of the suitability for publication. SuperyachtNews.com accepts no liability or responsibility for any inaccuracies or errors made by the submitter in this regard.
---
If you've found this story to be 'a report worth reading', and you would like to enjoy access to even more articles, insight and information from The Superyacht Group, then you may well be interested in our VIP print subscription offer. We are inviting industry VIPs to register for a complimentary subscription to our print portfolio, which includes the most insightful information on the state of the superyacht market. To see if you qualify for our VIP subscription package, please click here to fill in an application form