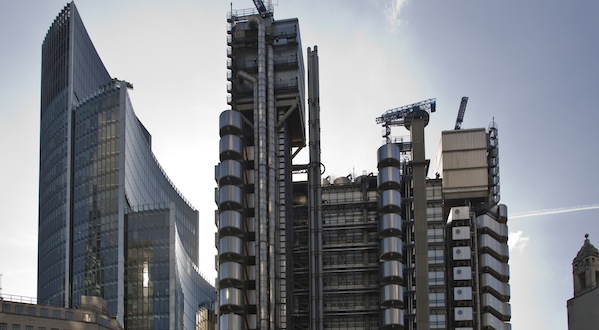 Following on from my visit with Paul Miller at Hiscox, I wanted to explore some of the other activity in the insurance world and see if there have been many changes since Superyacht Events hosted the Superyacht Management Meeting: Insurance at the close of 2013. What do owners need to be aware of? And is there anything that they feel is lacking in their coverage?
Some of the largest claims and items discussed at the meeting surrounding crew accident and negligence, increased requirements for larger new builds, especially when masts were involved, still remain key today. As one broker told me, "sometimes these new carbon fibre masts can cost more than the actual yacht itself! We need to ensure we give sufficient coverage as a result". Being toured around with Simon Ballard of CRS Yachts, I was able to play fly on the wall while visiting with underwriters and taking in the history of Lloyd's, which features some of the remnants of years gone by, still firmly rooted in the traditions built upon over 325 years ago.
With a number of claims coming through from crew related incidences, is it simply lack of coverage? Negligence? Or a combination of both? Martin Baum, managing director at Pantaenius, thinks it can be avoided simply by planning ahead. "Most will simply add accident cover on to the hull insurance as a small accident cover (free of charge) with hardly any cover and the medical they try to put into the P&I insurance. Both is not enough." Michelle Van der Merwe, team leader with Pantaenius in Monaco commented "whether you are a temporary crew member, deck hand, engineer or captain, ensure that your medical coverage is sufficient for your needs. Although it is the owner's responsibility to protect his/her employees, making sure your cover is adequate provides invaluable peace of mind". As with so many things, taking the time to ensure you have adequate protection, before it's too late is key. As executive director marine and superyachts at Willis, Mark Feltham said to me, "it would be true to say that crew accident and medical claims are the biggest amount we get in terms of volume but not in cost. Very few are a result of laziness, negligence or lack of training in my experience – more a case of young active people doing what young, active people do, both on board & ashore! As long as they have the right policy, they'll be covered".
While it may not be the sexiest of subjects, staying abreast of one's insurance coverage and ensuring you're insured when and if necessary, will save a number of headaches and often money in the future.
---
If you like reading our Editors' premium quality journalism on SuperyachtNews.com, you'll love their amazing and insightful opinions and comments in The Superyacht Report. If you've never read it, click here to request a sample copy - it's 'A Report Worth Reading'. If you know how good it is, click here to subscribe - it's 'A Report Worth Paying For'.