25 Sep 2012
New builds at Sanlorenzo play part in development of lines
Four hulls at Sanlorenzo – two hulls on two of the yard's core ranges - are under construction, it was revealed at Yacht Club de Monaco on Friday 21 September.
The yachts ordered and under construction are part of the SD range and the SL range of planing motoryachts respectively. Their addition in both cases represents a fulfillment of a specific need in the two lines.
For the SD line, the new SD110, a 33.65 m navetta, creates a natural link in the chain with sister yachts SD 92 (28m) and SD122 (37m). Her arrival represents "the missing joining link between the two" said the yard.
The SD110 will be built in composite material with semi-displacement hull. Orders for Hull One and Hull Two have been made and they are under construction for summer 2013 delivery.
Superstructure is three decked, but thanks to 'sharp design tricks' she has the slim look of a two deck yacht. The sun deck is very roomy and ideal for sunbathing, or relaxing in the whirlpool.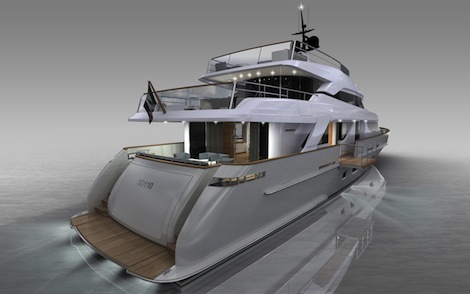 SD110, the 'missing link' in the line's chain

On the upper deck there is a semi-circular glass door merging interior and exterior spaces for a large dining room, giving guests the enjoyment of being inside and outside at the same time. The interior décor is bespoke through the different kinds of wood that can be chosen, from classical mahogany to softer sycamore.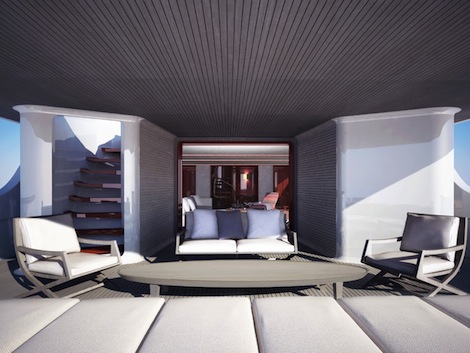 Lounging area on deck on SD110

The aft platform slides to form a wide beach at water level, and features sound proofing solutions on the underwater exhausts of the gensets so as to not disturb diving.
The second two new hulls under way are for the SL118 line, the new 36.50 m. Her role is as the flagship yacht of this range.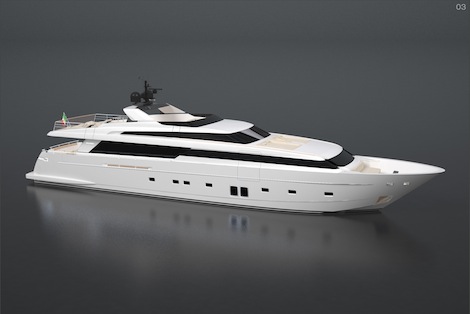 Described also as the 'purest' of the Sanlorenzo SL line, her dimensions and features have been made both bigger and better.
Her size combined with her semi-wide body configuration allow for imaginative use of space, such as organized sunbathing area in front and folding terraces on the sides of the owner suite and the salon.
She has the latest technical features. The helm station for example, on the half deck has ergonomic advanced solutions with four control system screens each individually standing, and the navigator corner as on commercial aircraft.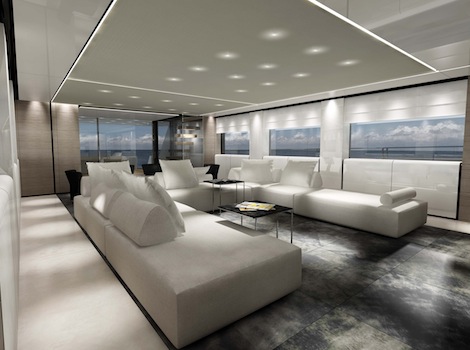 Large salon windows on the new 36.50 m for the SL line

Whilst innovating, the new flagship also repeats elements that are the hallmark of the SL range, such as large salon windows, metal grey painted pillars, transparent handrail of the flying bridge to allow a pleasant view from the top, the transom with the teak hand rail and the steel frieze.
Finally, Sanlorenzo added a new concept for a new line altogether at Monaco. The Sanlorenzo 42 EXP is designed to harness consumer interest in the explorer model. She promises to 'bring the same level of comfort and service one might find in Monte Carlo to the extreme ends of the Earth. From Greenland to Patagonia.'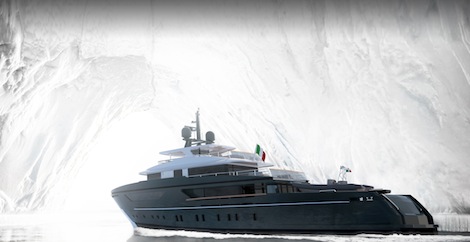 Sanlorenzo 42 EXP

Related Links
Sanlorenzo Profile
|
Sanlorenzo Website
Add a comment
Other Fleet News

Superyacht Intelligence Data
SuperyachtIndex.com
Latest Premium Listings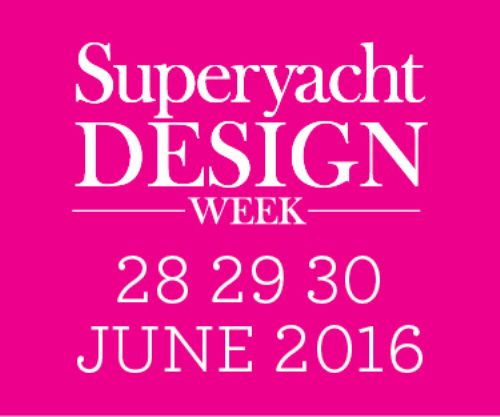 SuperyachtDESIGN Week
Naiad Dynamics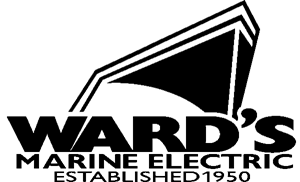 Wards Marine Electric

BachmannHR Group Ltd
Camper & Nicholsons Marinas Ltd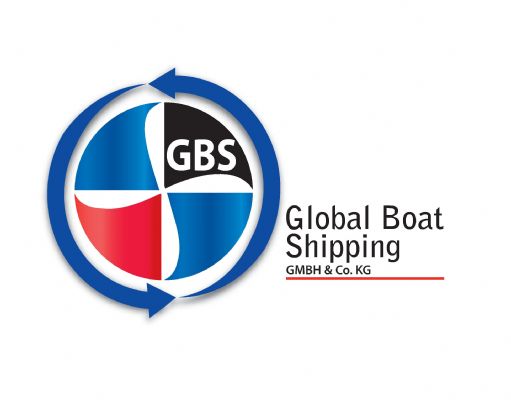 Global Boat Shipping GmbH & Co. KG
GINNACLE TEAK IMPORT EXPORT PTE LTD
Featured Listings