2 Jul 2012
Q2 2012 superyacht brokerage report
As the last days of June drew to a close, figures for the second quarter of 2012 could be finalised, with the result of gaining a succinct understanding of how the brokerage market has fared in the first half of 2012.
With regards to sales, Q2 looks slightly more comforting than Q1, but only by a mere couple of metres. Exactly the same number of superyachts were sold in Q1 and Q2 – 41. However, Q2's cumulative length of sales reached 1,781.5m, 100m more than for Q1, and as a result the average length of superyachts sold rose from 41m to 43.5m. Sales activity in Q2 did not increase, but those components making up the figure did improve albeit very slightly.
Twenty-one (over half) of Q2's superyachts sold lay in the size bracket of 30-40m, whilst this figure dropped to 12 for 40-50m, and then down to three for 50-60m, two for 60-70m, and back up to three for the largest bracket of 70m+. The largest sale of Q2 was Vripack's sale of the 104m Blohm + Voss – also the largest sale of 2012 to date – whilst other large sales included French shipyard Piriou's signing of a contract for a 76m explorer ship, and Burgess' sale of Rossinavi's 70m 2011
Numptia
, all of which took place in June. Positive news lay in the number of projects, new builds or part-constructions signed or purchased, the number for which lay at an impressive 13.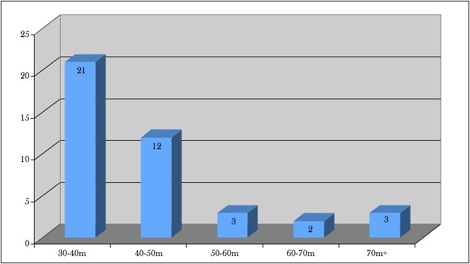 The above graph of sales in Q2 2012 shows that the most popular size bracket for sales was toe 30-40m category, seeing over half of the total quarter's sales

Brokers perhaps can find comfort in the number of new central agencies for Q2. At 100, 10 less than for Q1, the fleet of yachts available for sale is slowly depleting, which means brokers' efforts can be split between fewer yachts. Though with 4209m of new central agencies, the average new listing lies at 42m, 2m larger than that for Q1.
Of particular interest was Q2's new central agency of a mini cruise ship:
Tu Moana
is for sale through Burgess and Yachting Partners International, and is asking €8.5 million. The largest new central agency in Q2 was Royal Huisman's 90m sailing
Athena
– one of 17 sailing yachts in this category – for sale through Y.CO, asking $95 million. The second-largest addition to the sales fleet was also a new Y.CO listing, Schichau GmbH Bremerhaven's 77.7m motoryacht
Lone Ranger
. Once again the 2000-2009 category proved most popular, with 57 of Q2's new listings falling into this category for their date of completion, another popular category, though significantly less so, being the 2010+ category, home to 15 superyachts.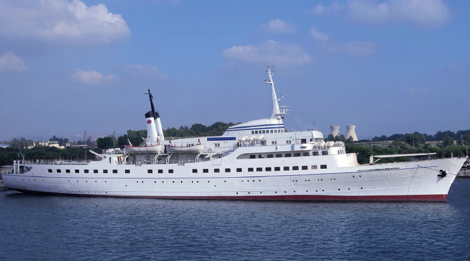 The 104m Blohm + Voss was the largest superyacht sold in both Q2 and 2012 to date

Price reductions were, unfortunately, the most disappointing set of figures for Q2, with 154 in total (6,118.4m worth), 19 more than Q1's 135. Multiple reductions on a single superyacht was an ongoing trend in Q2, with only 131 yachts comprising the quarter's 154 reductions. Azimut's 35.4m 2010 motoryacht
Cinque Star
will have contributed to this figure, the yacht having been reduced by Worth Avenue Yachts four times alone in the second quarter of 2012.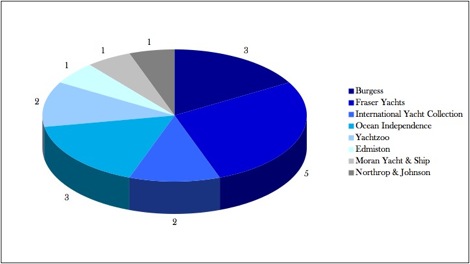 The above chart shows the number of yachts sold by the industry's leading brokerage houses, for which the respective brokerage house represented the seller

At €175,960,874, Q2's reductions totalled over €30 million more than for Q1, with most reductions (98) taking place on yachts sized between 30 and 40m, and once again, most reductions taking place on yachts completed between 2000 and 2009. Yachts constructed between 1980 and 1989 also saw significant levels of activity, with 18 reductions taking place on yachts in this bracket.
The largest superyacht to be reduced was Corsair Yachts' 90m motoryacht
Nero
, however having been reduced by €7.6 million by joint central agents Burgess and Merle Wood & Associates, it did not boast the largest price reduction. Six of the quarter's reductions reached or exceeded the €5 million mark, with the average reduction at €1.143 million. It was Burgess' listing of Feadship's 62m motoryacht
Rasselas
that saw the largest drop, as a result of a currency change, of an enormous $11.6 million.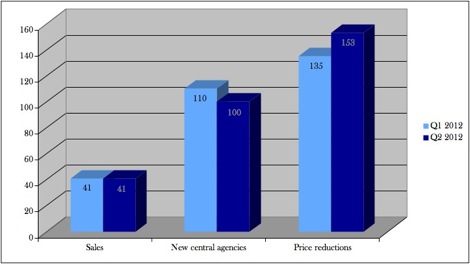 Activity levels of Q1 and Q2 2012 were very similar, with the number of sales exactly the same, at 41

In comparison to Q1 the second quarter of 2012 saw no significant alterations in trends or jumps or drops in activity, but rather Q2's figured acted as a continuation and confirmation of what we saw in Q1. The brokerage market is still moving, albeit at a slow place. But, the import fact remains: the brokerage market is seeing movement.
Add a comment
Other Fleet News

Superyacht Intelligence Data
SuperyachtIndex.com
Latest Premium Listings
Naiad Dynamics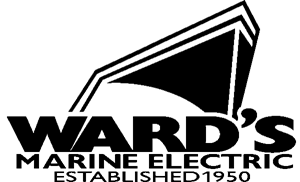 Wards Marine Electric

BachmannHR Group Ltd
Camper & Nicholsons Marinas Ltd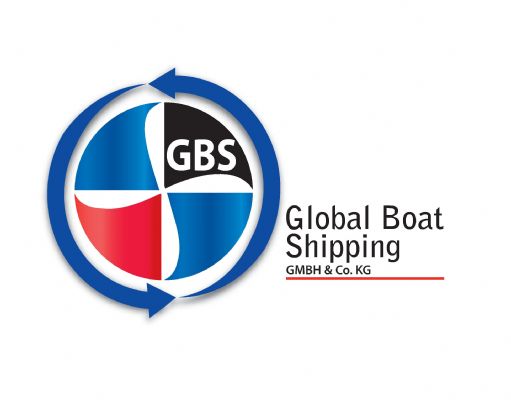 Global Boat Shipping GmbH & Co. KG
GINNACLE TEAK IMPORT EXPORT PTE LTD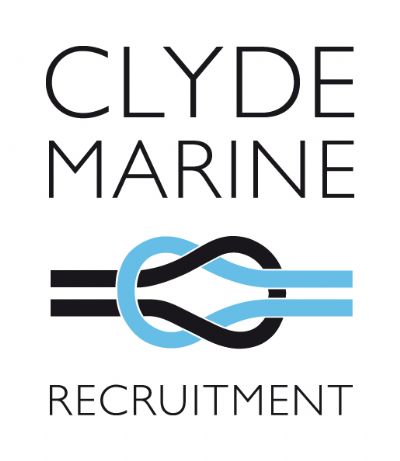 Clyde Marine Recruitment
Featured Listings