15 Oct 2013
Pinmar Golf 25th anniversary meets expectations
This year, from 10 – 12 October, the industry's much-anticipated charity event, Pinmar Golf, took place at the picturesque Son Gual golf course in Palma, celebrating 25 years of raising money for multiple charities. The event is looked forward to by all in the superyacht industry, providing a relaxed atmosphere that allows for an ideal combination of casual networking and socialising, with many industry professionals turning up to the clubhouse this year with no intention of playing golf, but solely for the purpose of meeting and conversing with members of the superyacht industry.
Thursday 10th October was the first day of play, and the early risers, from the 106 teams attending, who were teeing off at eight o'clock in the morning were welcomed to Son Gual with bacon sandwiches to prepare them for the day ahead. The shotgun went off and play began, with golfers stopping off at the sponsors' bars throughout the day, where the charitable donations were flowing and the true meaning behind the event was not once forgotten. The Superyacht Group, sponsors of the event, had a bar that took over €2,500 over the two days. The first day of play was a roaring success and morale was high, with some players signing up for a second day of golf on the Friday.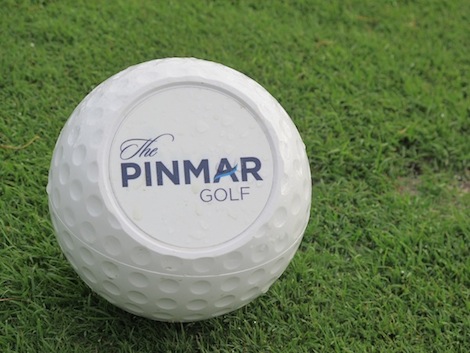 This year the event was celebrating its 25th anniversary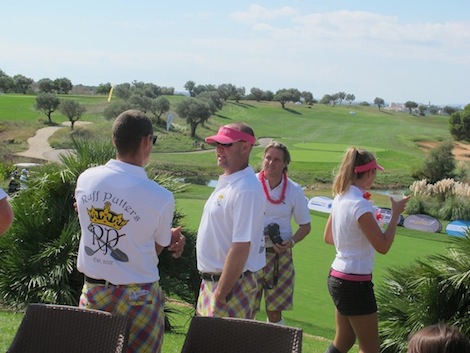 Team 'Ruff Putters' enjoys some networking in the sunshine

Unfortunately, the morale on the Friday morning was somewhat lowered when players turned up to Son Gual to find the sixth hole had been severely damaged overnight by improper use of a golf buggy, raising questions about the professionalism of some attending the event. The Pinmar team worked hard throughout the night and in the early hours to ensure play could continue on the Friday, however buggies were not allowed and players were faced with walking the 18-hole course. Yet, the industry was united in its contempt for this action, and spirits rose throughout the day. In addition, with more walking to be done, players were thirsty and the bars raised even more money on the second day.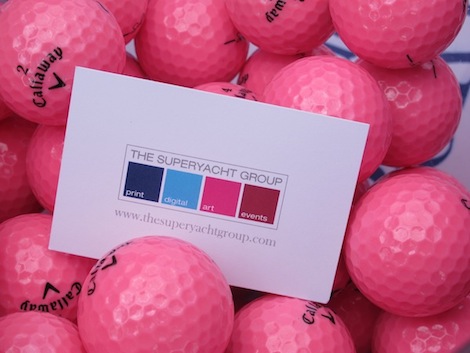 The Superyacht Group were selling pink golf balls to raise even more money for charity
To top off two days of fantastic (and some questionable) golf, Friday evening, 285 industry professionals attended a Bond Support and Services invitation-only event at Tristan's Puerto Portals, where the two days' play was excitedly discussed and analysed by all.
Saturday evening saw the Pinmar Anniversary Ball, which this year was held at a new venue, Son Termens. The 957 attendees were spoiled with a mouth-watering canapés, a plethora of entertainment, including magic, acrobatics and dance, as well as a delicious three-course dinner. The prize giving, the most anticipated part of the evening, was a great success with some fabulous prizes having been donated by the event's sponsors. Money continued to be raised throughout the evening, as both a silent and non-silent auction took place, which served as a reminder of the fantastic causes Pinmar has been working to support these past 25 years, and this year in particular, and was topped off with a €10,000 donation by principal sponsor Awlgrip.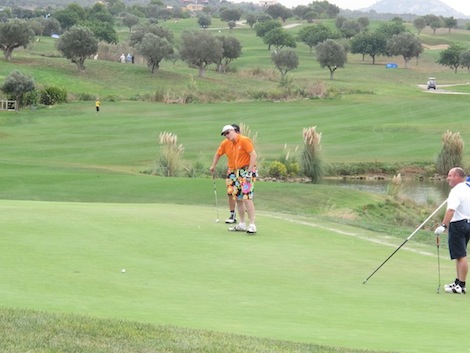 Team Awlgrip and M/Y Seaflower enjoying their morning of golf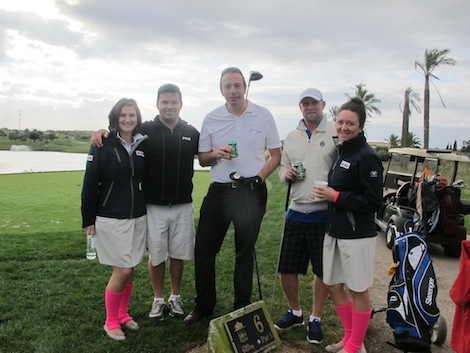 The Superyacht Group welcomed players to its bar throughout the day

The event's aftermath confirmed its success, with a plethora of positive discussion ensuing. Stefan Van Cleef, chief executive officer and co-owner of Yacht Eye, part of Oculus Technologies, was attending the event for the first time and described it in the following words: "A great event. It has a relaxed setting with less formal networking because it has a focus on friendship and fun. You really have the time to speak to people."
Nigel Sherlock, sales manager at Van Berge Henegouwen (VBH), told SuperyachtNews: "It is the industry's most fun and relaxed event of the year; an event where everyone involved can let their hair down and catch up with old friends which makes it, in my opinion, one of the best networking events to attend. It is very well organised and of course, being on the island of Mallorca in October, it is always nice to feel the sun so late in the year. It is the one event in the year that I genuinely look forward to attending."

Meanwhile, Ken Hickling, Global Business Development Manager at AkzoNobel, shed light on the event's uses as both a charitable and networking event. "As principal sponsor, Awlgrip is obviously a huge supporter of this event. Not least by our €10,000 contribution to the charity fund, but also in our own presence, fielding two teams comprising our own people and guests from the industry."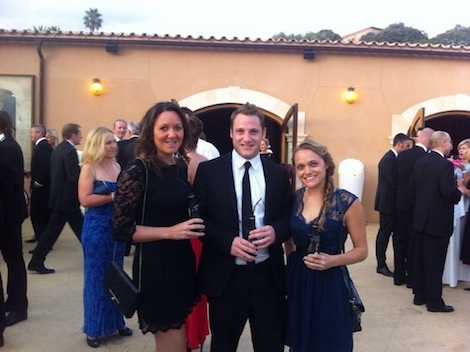 The Superyacht Group team at the anniversary ball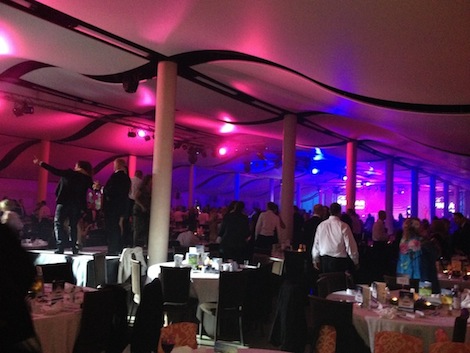 The anniversary ball hosted an impressive 980 industry professionals this year

"The networking is unique because the duration of the event coupled with no distractions of seminars or exhibition obligations creates a more relaxed environment within which to renew old acquaintances, cement relationships and make new friends," Hickling added.
"Ultimately we have to recognise the huge effort by the Pinmar team and their volunteers in putting together one of the standout events in the entire yachting calendar."
Pinmar Golf 2013 winners:
Best Yacht – Nett:
Katara
I
Best Yacht – Gross:
Is a Rose
Best Non-Yacht – Nett: Branagh Marine Composites
Best Non-Yacht – Gross: Best Boats Mallorca
Best Superyacht Industry – Gross: Y.E.S.
Best Ladies Gross: Beaugeste Ladies
Best Ladies Nett:
Tatasu
Teezers
2nd Superyacth Industry – Gross: Pinmar
2nd Yacht – Nett:
Tatasu
Turfcutters
3rd Yacht – Nett: Heavy Metal
Nearest Pin hole 5: Bryn Darbyshire
Nearest Pin hole 9: Vicky Verity
Nearest Pin hole 15: Renee Jacques
Longest Drive hole 6 men: James Williams
Longest Drive hole 6 ladies: Gina Gillman
Longest Drive hole 12 men: Marc Cameron
Longest Drive hole 12 ladies: Martine Jacques
Air Partner Back 9 Challenge:
Tatasu
Turfcutters
Profile links
Add a comment
Other Events News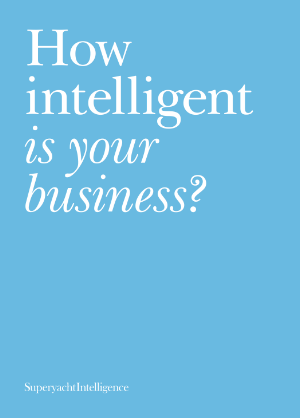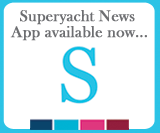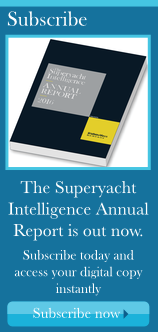 Tenders and Toys
SuperyachtIndex.com
Latest Premium Listings
Cummins Inc.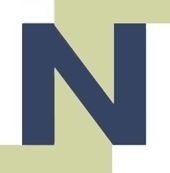 Nlightened Software Ltd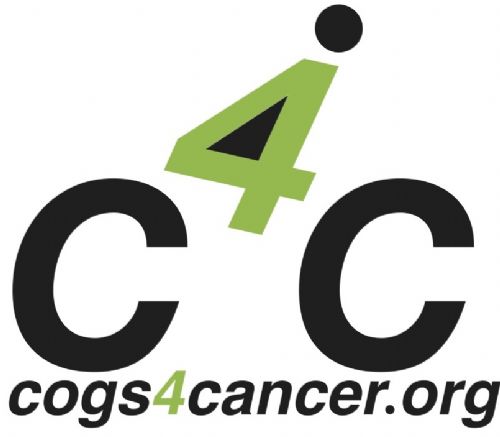 Cogs 4 Cancer
Zytexx International Ltd
Melita Marine Group
Raytheon Anschuetz
Kahlenberg Industries, Inc.
Featured Listings