18 Jun 2012
Superyacht industry gathers for groundbreaking think tank
A multi-faceted array of leading minds from every area of the superyacht industry assembled at New Zealand House in central London for a day of visionary conversation hosted by The Superyacht Group and Superyacht Interiors New Zealand.
In a radical departure from the conventional techniques ordinarily employed by the industry, 18 leading lights covering every sector of the industry engaged in a day of candid conversation in the form of an industry think tank.
With the superyacht industry at something of a juncture, this approach, favoured in political and economic circles as a means of policy formulation, gave those in attendance the opportunity conduct a frank review of the current state of the global superyacht market. No punches were pulled in the group's quest to assess the existing modus operandi of the industry's structures and processes in order to identify the areas in which it needs to improve.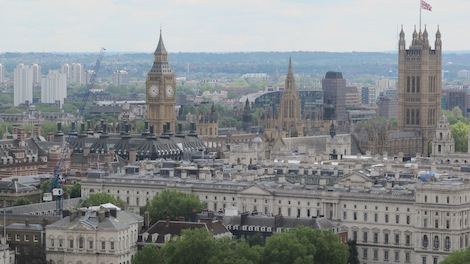 The view from New Zealand House.

Covering areas as diverse as target markets, the key fundamentals of the delivery process, and business models, as well as a thorough evaluation of the design, engineering, subcontractor and brokerage sectors, the group made substantial progress and generated a number of actionable plans and concepts.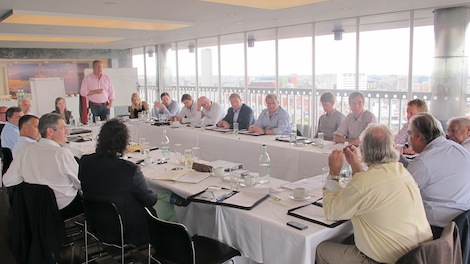 Esteemed yacht designer, Frank Neubelt (far right) raises a point.


Among the attendees were International Superyacht Society president, Ken Hickling, naval architect Marnix Hoekstra, of Vripack, and Chairman of Camper & Nicholsons Marinas, Nick Maris. However, because of the honest and informal nature of the day's discussions SuperyachtNews.com is unable to publish specific details of what was said. But the conclusions drawn will be presented at the 2012
Global Superyacht Forum
(12-14 November), itself focused on the ideas and concepts that will enhance the status of the superyacht industry.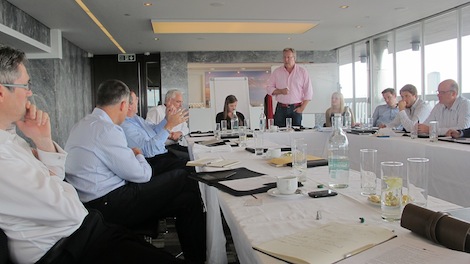 The Superyacht Group's Chairman, Martin H Redmayne listens to the views of Randall and Quilter's Paul Miller.

Speaking after the conclusion of the think tank, designer Oliver Stirling, who played an integral role in the day's productivity, expressed his satisfaction with the results:
"It was an extremely enlightening and thought-provoking experience, having such a range of disciplines present. It was fascinating to see how, although we all have our spheres of operation within the industry and share the same goals, we all see things differently.
"It was a very complete day and [those in attendance] covered an amazing amount of ground."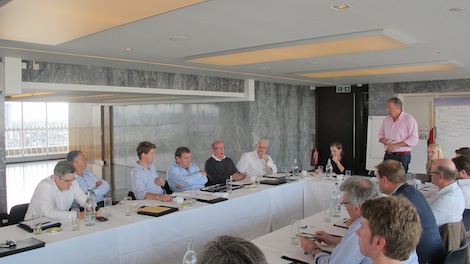 CRS Yacht's Simon Ballard addresses the group.


Related Links


Superyacht Interiors New Zealand Profile
|
Superyacht Interiors New Zealand Website
Superyacht Events Website
Add a comment
Other Events News
Superyacht Intelligence Data
SuperyachtIndex.com
Latest Premium Listings
Naiad Dynamics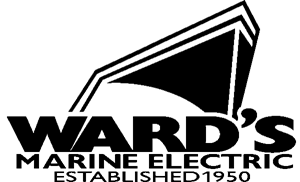 Wards Marine Electric

BachmannHR Group Ltd
Camper & Nicholsons Marinas Ltd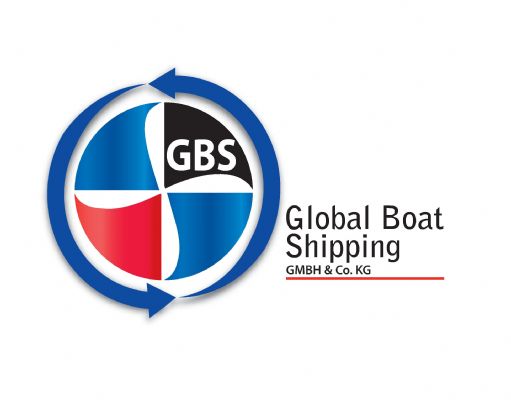 Global Boat Shipping GmbH & Co. KG
GINNACLE TEAK IMPORT EXPORT PTE LTD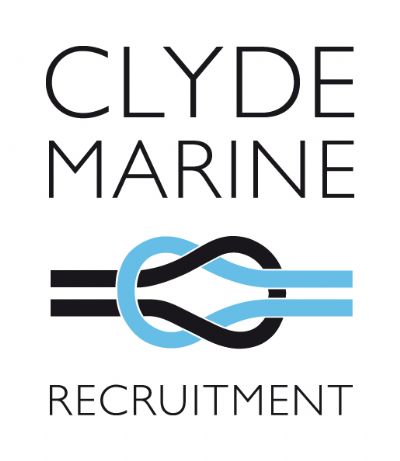 Clyde Marine Recruitment
Featured Listings