22 May 2012
American Superyacht Forum 2012: Day One
This year marks a decade of The Superyacht Group's American conferences and yesterday saw the start of the three-day event. The conference started with a look at the facts and figures surrounding the state of the US market, with a number of focuses, from new build delivery rates to advocacy and legislative and regulatory progress.
The introductory session,
The State of the American Industry
, opened with a digest of figures about the US-built superyacht fleet. Martin H Redmayne, Chairman of The Superyacht Group, commented that although the rate of new launches is reducing, he feels that this lowered growth in the market is still manageable. He commented that the proportion of yachts being launched in the US is reducing compared with the global launches but that with an increase from the 2011 launch level of 17 to around 25 launches per year, it would reach a good benchmark that he feels could keep the industry going in the US.
When the market died off in 2008, the US lost a lot of market share, he commented, because a lot of the yards were involved in flipping builds, "Trying to sell owners a financial dream, not a cruising dream", which gave an unrealistic expectation of the norm.
Joe Vittoria with Martin H Redmayne and
Wayne Huizenga Jr in the first session of ASF 2012

Wayne Huizenga Jr, whose family owned M/Y
Floridian
and who runs refit and repair shipyard Rybovich in West Palm Beach, commented that he feels many potential owners looking to build very large yachts have concerns about bringing their projects to the US because there is a lack of perceived experience in this market compared with many European yards. The US has become a service centre, he said, and many companies are adding to their capacity. "I am hoping that as more non-US owners bring yachts to the US for service and repair, they will get more of a taste for US yards and eventually bring their new builds to the US," he added.
Joe Vittoria, a long-term superyacht owner who built three superyachts and recently sold the last, S/Y
Mirabella V
, concurred that most people who have achieved the level of success to own a superyacht want security in the yards where they choose to build, so they are concerned about building big yachts in the US. He also thinks that many captains push for Europe rather than the US. "The capability for building large yachts is here – M/Y
Cakewalk
at Derecktor and M/Y
Laurel
at Delta – so that shows potential clients that they can bring their large builds here. But we need to make visiting the US for non-US flagged yachts easier, it cost me about $8,000 for the various permits and was a lot of hassle."
Vittoria, who feels that the fallout in revenue from the charter market was an issue for many owners, says that the political climate is pushing the difference between the wealthy and the non-wealthy, which is encouraging Americans to build yachts in Europe, away from the eyes of the US media. He suggested the stigma will diminish faster in the lower end of the yacht spectrum, and so focusing on this area might provide more of a market upswing for US builders in the near future.
When asked why he had decided to sell his last boat and leave yacht ownership, Vittoria was positive about his overall experience with superyachts, but said that in his case, with such involvement in the project, he needed to "decompress". "It's been a wild ride. The design process of
Mirabella V
took five years, to build it took three and technologically it was a challenge. If I buy again, it will be something quite small and if I buy an existing boat I will change it to make it my own, much like the new owner of
Mirabella V
, now
M5
, who has added 25 feet to the yacht and has made a lot of changes. If I did, it would need to be a good price to make that decision."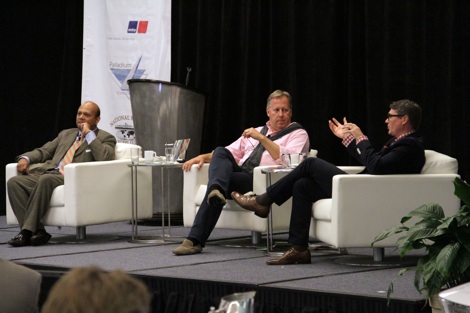 Ashok Rajan with Martin H Redmayne and David Freidman talk about
finding the next generation of yacht owners in the day's second session

In the second session of the day,
Realising Domestic Potential and Intelligent Client Targeting
, financial experts David Friedman of Wealth-X and Ashok Rajan of Merrill Lynch took to the stage to discuss how the industry can find the next generation of yacht owners to provide the needed upswing in the order book of America.
Friedman laid out some figures about the world's wealthy and those who can afford to buy a superyacht. Ultra-high net worth individuals (UHNWIs) are considered to be those with a net worth of over US$30m, of which there are 60,000 in the US (there are 2,400 known billionaires globally) and the target client base of UHNWIs converted from potential superyacht owners to actual superyacht owners is about 6,000-7,000.
"Yachts still represent romance for the rich," said Rajan. He asserted that the very wealthy are not generally affected by weak economies, they can still afford to buy yachts, but do not want to be seen spending such a large sum of money on a luxury item because of guilt. Rajan emphasised that there needs to be a strong will to buy something as decadent as a yacht but that whereas the older, first generation still associates its wealth with the hard work that went into making it, their children disconnect with the genesis of how the money was made and so are happier to spend it freely.
One comment from the audience, from Clyde & Co. partner John Leonida, was that he believes superyachting has an aging client base. "The crash from decades ago lost us a whole generation of potential yacht owners. And the recent recession will have the same knock-on effect in generations to come."
Friedman noted that there is a shift in the way that the newer generation of wealthy – the tech billionaires and their contemporaries – do not make buying decisions as previous generations have. In the past, referrals from other clients or influencers such as lawyers were important. Now, there is a new way of selling, involving extensive research into targeted clients to understand their tastes and passions, a one-on-one marketing approach. "People appreciate you understanding them. Taking the time to get to know them and match them with something that suits them. This means that you are not wasting their time – which is something that you can't buy more of." He also added that sharing database information in the industry would be a good thing, as this would improve the efficiency of the market, which needs a shift to work together.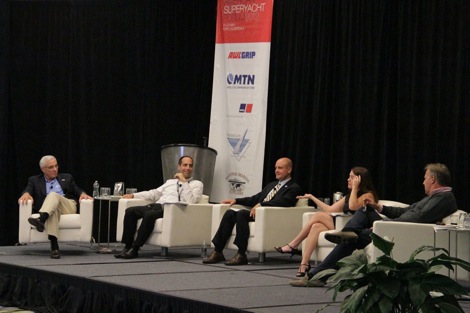 John Mann, Carlos Vidueira, Corey Ranslem and Kristina Hebert discuss regulations and authorities and how they affect the US superyacht industry

The last session of the day,
The Government and the Authorities – Friend or Foe?
, was a follow-up on the Action Plan that had been drawn up on the last day of ASF in 2011. At that conference, the general consensus made was that there needs to be more industry advocacy and professionalism as well as better marketing of the opportunities for ownership of yachts and cruising in the US.
After 12 months, many of the forerunners in this movement took to the stage to explain the progress that has been made, including the recent US Superyacht Association (USSA) visit to Washington DC as part of the American Boating Congress. "'Big boats mean big jobs' was the main crux of the Hill visits," said John Mann, chairman of the USSA. "We used the figures from The Superyacht Group's
Economic Impact Survey
to show the congressmen and senators that our industry means US$6.1bn to the country, including US$3bn in supply and manufacturing."
Carlos Vidueira focused on the work that has been ongoing at the Marine Industries Association of South Florida (MIASF) to improve the industry's professionalism, and therefore reputation and operating with best management practice. "If you as a company have not figured out a path from where you are today to becoming more professional in the future, you are going to find it hard to play catch up. I would encourage people to adapt sooner rather than later to the changes that are coming in terms of professionalism. There is no industry code of ethics and we suffer from many indiscretions from individuals in the industry; there are no consequences for poor conduct as an industry, and we have to stop that continuing."
Vidueira commented that the Fort Lauderdale International Boat Show, owned by the MIASF and put on by Show Management, will be having some significant changes this year, because in the past, people have felt that the show was not professional enough nor pitched at the right level.
Corey Ranslem, advocacy co-chair of the USSA, approached the regulatory issues. He said that the USSA has made three trips to DC in the last year, including some positive work with the US Department of State (USDOS), which has concluded that we do not want a separate yacht visa for crew, and the B1/B2 visa is the correct one for most crew. If you are not sure, get both a B1/B2 and C1/D visa – can hold both at once. The USDOS has recommended trying to get a visa from a crewmember's country of origin, which may not always be possible but the USDOS are very backed up in the Bahamas.
Ranslem said that the USSA now has a strong relationship in DC with the Customs and Border Protection agency and that it now recognises the importance of the superyacht industry, and is able to help with compliance from the industry. If there is a problem locally or nationally, the USSA advocacy team is able to work with the authorities to iron out any creases, mitigate problems
Many of the areas that the USSA wants to work on are regulatory changes, which they can work directly with the agencies on, not needing acts of Congress to make a change.
Kristina Hebert, also advocacy co-chair of the USSA, commented that it is an ongoing process to make sure all 435 members of House of Representatives and 100 members of the Senate know about and understand the superyacht industry.
Agencies under the current administration have made it very difficult to be a small business, continued Hebert, and America needs to get engaged and get involved – and scold those legislators who don't want to get involved with helping the industry. "These are bipartisan issues, they aren't political but they are economic. That way it is easier to convince legislators to work with the superyacht industry."
Ranslem concluded that, from a regulatory standpoint on a national level, we have seen the authorities go from foe to friend significantly in the last few years, and this needs to be brought down from a national to a regional and local level. "Everyone needs to get involved with education, regulatory, legislative and advocacy issues. A lot of issues can be mitigated on a local level with more people getting involved. We need to be one industry, one voice and come to a unified voice."
After the day's discussions, everyone made their way to Bonnet House for drinks and dinner in the colonial setting, celebrating the 10th anniversary of the event and continuing the ASF joke competition, which was won by Shalom Weiss of National Marine Suppliers.
ASF 2012 is sponsored by AwlGrip, MTN Communications, MTU and Palladium.

The ASF Sport Fishing Tournament is sponsored by Goldring & Goldring, Chelsea Clock, ISS GMT and MedAire.

Merchandise sponsors are Hodgon Yachts and Pacific Bound Yachts.

ASF 2012 is supported by:

Come Sea U.S.
The Florida Yacht Brokers Association (FYBA)
The International Superyacht Society
Marine Industries Association of South Florida (MIASF)
National Marine Suppliers
United States Superyacht AssociationRelated links



American Superyacht Forum 2012




ASF 2012 Day 2 - what was said?
Add a comment
Other Events News
Superyacht Intelligence Data
SuperyachtIndex.com
Latest Premium Listings
Naiad Dynamics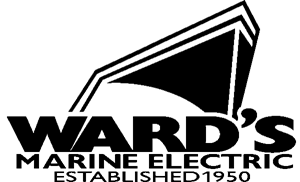 Wards Marine Electric

BachmannHR Group Ltd
Camper & Nicholsons Marinas Ltd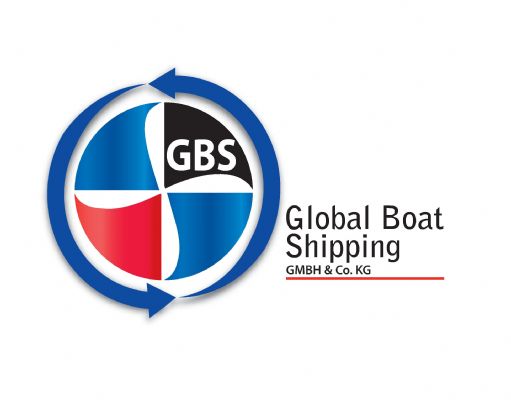 Global Boat Shipping GmbH & Co. KG
GINNACLE TEAK IMPORT EXPORT PTE LTD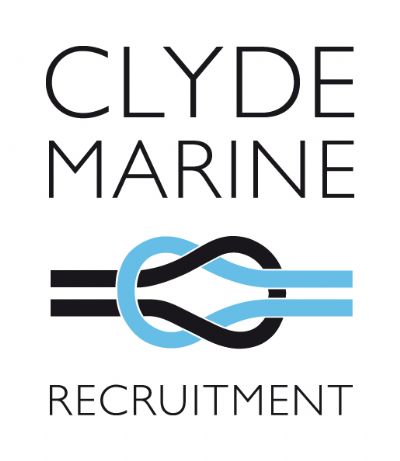 Clyde Marine Recruitment
Featured Listings