15 May 2012
Business, Florida style at ASF 2012
All work and no play, so the saying goes, makes Jack a dull boy. Essential therefore that alongside the seven intense sessions planned for the American Superyacht Forum (21-23 May) is an exciting array of events in place for delegates' downtime.
To ensure all attendees are primed for some serious networking and entertainment, and with less than one week to go until the 10th annual ASF in Fort Lauderdale, Superyacht Events are officially announcing the Forum's social programme. With a range of events, from barbecues to elegant dinners and the annual sports fishing tournament, ASF is set to be a cracking three-day event, South Florida style.
Prior to the Forum, a spectacular Kick-Off Party at Bimini Boatyard, hosted by USSA, will be held on the evening of Sunday May 20. The 'Margaritaville' inspired Cocktail Party promises great opportunities to network with plenty of music, hors d' oeuvres and cocktails.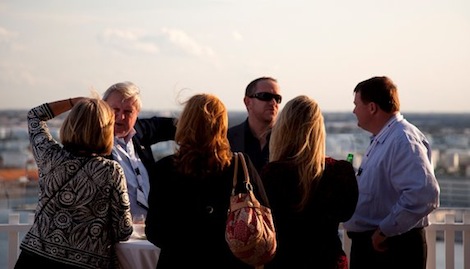 Breezy: Socialising in between sessions at ASF 2011

On Monday 21 May, the first evening of conference, is the annual American Superyacht Forum Dinner. Held at the glamorous and historical Bonnet House delegates can expect an evening of fine dining and fun. It will be the ideal start to the conference and a prime opportunity to discuss the debates and topics from the opening day's sessions in style.
The American Superyacht Forum dinner is held at the beautiful Bonnet House.

On the second evening there is an opportunity to kick back and relax. Delegates will be treated to a chilled evening barbecue dinner overlooking the pool at the Hyatt Pier 66 Poolside. After the BBQ, delegates will move to the Bimini Boatyard for an evening sponsored by InteliSea.
Additional entertainment will be provided from the International Yacht Training Fort Lauderdale's mini mega-yacht competition, featuring at the forum for the second year. Competitors have the chance to prove their manoeuvring skills, safely bringing mini mega-yacht
Lady Amelia
through tricky turns in an obstacle course.
Lady Amelia
handles in a similar way to full-size vessels and is equipped with a rudder, individual throttle and bow thruster controls.
Lady Amelia, possibly the world's smallest superyacht, will test delegates' skills.

The grand finale and invariably the highlight of every ASF, sees delegates take to the waters and compete with fellow industry players to catch some of the best fish the east coast has to offer. The American Superyacht Forum fishing contest has returned, but this year with a twist. Delegates will be socialising and networking together on two big charter boats, allowing the competition to really heat up. Delegates celebrate their successful morning catches with an afternoon barbecue lunch and a prize-giving ceremony, awards courtesy of Chelsea Clock.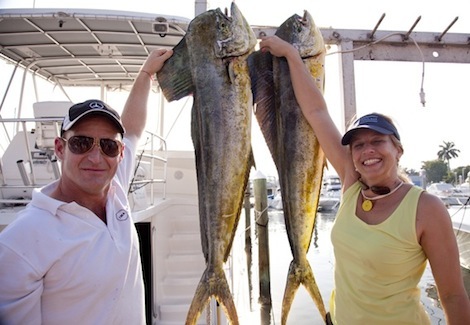 Last year's ASF sports fishers hold up their catches of the day

To RSVP to USSA's Kick-Off Party, you must email info@ussuperyacht.com
or call USSA office at 954-792-8666. Those who want to stay for dinner afterwards get 10% off their ticket.
Please bring your ASF registration confirmation with you if you signed up to the event after the 17 May.
For all other social events delegates to ASF are immediately registered, unless they specified otherwise on registration. Please email
katie@thesuperyachtgroup.com
if you would like to cancel your attendance to any of the above.
If you haven't registered for a place to this year's American Superyacht Forum, it's not too late! Click
here to register
or call Superyacht Events on +44 (0)207 924 4004
For information on the American Superyacht Forum 2012 and to see the programme go to www.superyachtevents.com/asf/asf2012
ASF 2012 is sponsored by AwlGrip, MTN Communications, MTU and Palladium.

The ASF Sport Fishing Tournament is sponsored by Goldring & Goldring, Chelsea Clock, ISS GMT and MedAire.

Merchandise sponsors are Hodgon Yachts and Pacific Bound Yachts.

ASF 2012 is supported by:

Come Sea U.S.
The Florida Yacht Brokers Association (FYBA)
The International Superyacht Society
Marine Industries Association of South Florida (MIASF)
National Marine Suppliers
United States Superyacht Association
Add a comment
Other Events News
Superyacht Intelligence Data
SuperyachtIndex.com
Latest Premium Listings

BachmannHR Group Ltd
Camper & Nicholsons Marinas Ltd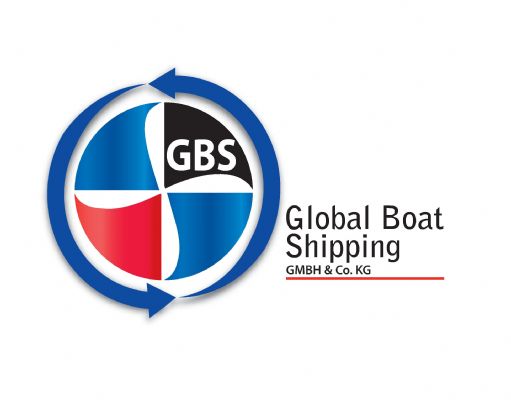 Global Boat Shipping GmbH & Co. KG
GINNACLE TEAK IMPORT EXPORT PTE LTD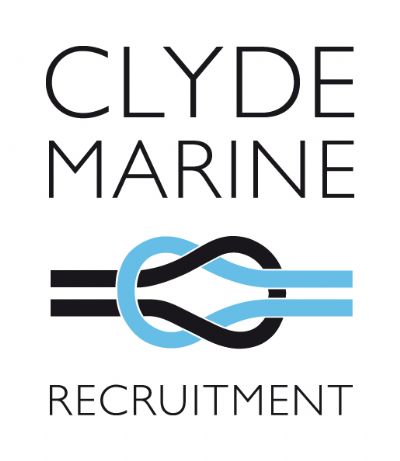 Clyde Marine Recruitment

OR Technology (Oehm und Rehbein)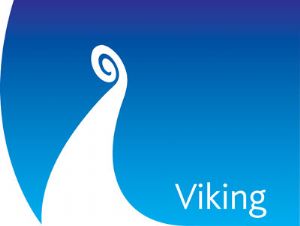 Viking Recruitment
Featured Listings