16 Apr 2012
The Superyacht Security Summit's Technical Innovation Presentations
The third session of the Superyacht Security Summit 2012, held on 28 March in Glaziers Hall, London, saw industry leaders presenting their latest products and technology in the security field.
Current Corporation
Douglas Houghton began by introducing Current Corporation's camera systems for adverse weather conditions, designed to "change the way people think about travel on the water, day and night."
First was the Night Navigator 3, incorporating three high-end camera systems, and remotely controllable via iPhones and iPads. Its dual field high-resolution thermal camera is capable of picking up images in complete darkness, while its high-definition image intensified camera amplifies available light to create a clearer image, showing light sources that a thermal vision camera cannot. It also incorporates a day camera, a 1080p high-definition camera with 20 x zoom and an additional 12 x digital zoom.
Second, the Night Navigator SOS (safety on seas) – an all-weather laser-based camera, which uses a laser to emit timed infrared pulses.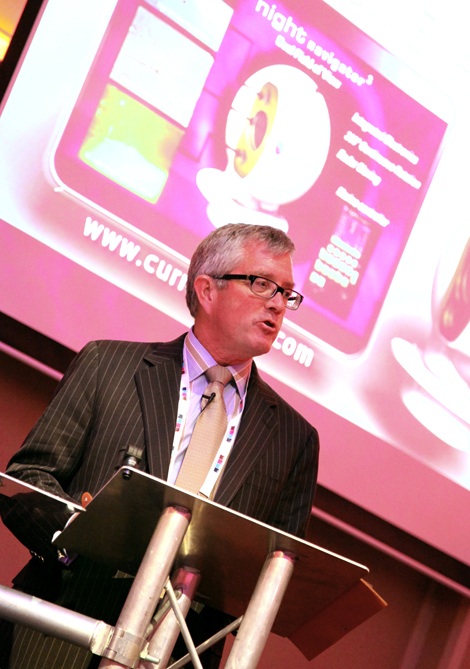 "The more time you have to detect something out there, the more time you have to enact your safety plan on board," concluded Houghton.

Lasersec Systems
Alexander Murbach from Lasersec Systems, based in Finland with offices in Switzerland and the United States, presented the company's non-lethal laser deterrent solution.
"It's really necessary that owners, designers, or whoever deals with your security, starts looking into equipping the yachts with deterrent solutions, because there is technology out there and it should be used."
Murbach highlighted a key benefit of the non-lethal solution: "You're not going to cause any injury, in case you target the wrong person." Lasersec Systems' long-range lasers, intended to keep potential attackers out of range, optimise deterrence of attacks and consequently minimises the chance of the attacks occurring.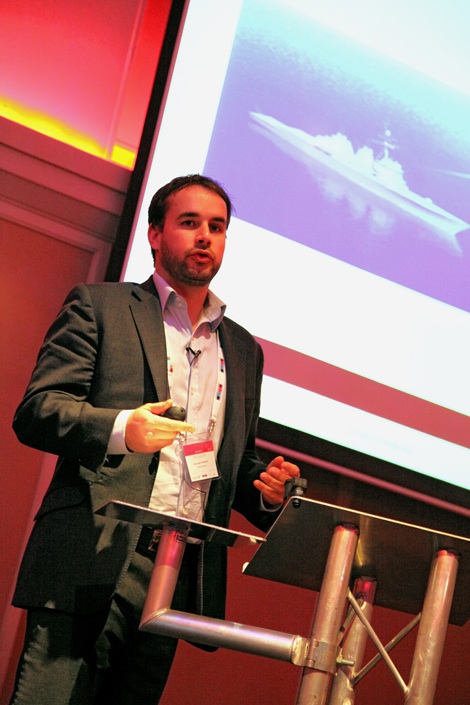 Murbach presented Lasersec Systems' more sophisticated laser-system, including a high definition camera, as well as the portable solution for an owner with more than one yacht.

Servowatch Systems
Martyn Dickinson introduced Servowatch Systems' technology, which allows its users to gain a full awareness of surrounding hazards and activity. With the technology, said Dickinson, "we can start building a security cordon around ourselves."
Using the early process of receiving feeds of information, every single object in the environment is able to be tracked, while images of static land and mobile objects are overlaid on to a geodetic reference in order to build up an accurate situation plot while overcoming difficulties with visual tracking.
The system builds up a database on the detected objects, and begins to classify them – what they are, what they are doing, their motion, and whether they are a risk or a threat – as well as allowing you to zero in on a single object. "It gives [people] a chance to build up their reactions to a situation," concluded Dickinson.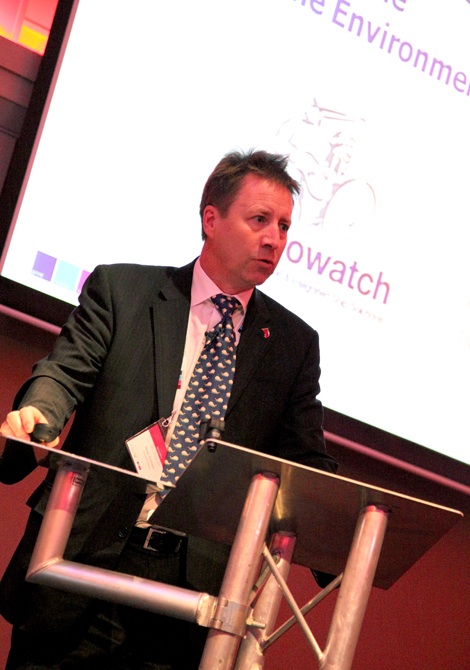 Dickinson shared information about the system's technology, which uses a 64 x zoom, and is capable of showing a 3.5 mile range. All images have a full-frame stability, and 2 x digital enhancement still allows a view of a vessel at a range of over 3 miles.

Special Project and Services
Andy Young, managing director of Special Projects & Services, introduced the company's new service after acknowledging the increasing number of security companies for the maritime sector – now over 200. "It's a very difficult market," said Young, "and obviously it's an ideal time to launch the new service."
Special Project & Service's large-scale solution provides propositioned platforms and propositioned maritime security teams, who will carry all the right sorts of equipment and will work with closely with a vessel's captain, with the capacity to provide vessel escorts and remote tracking.
The solution, which is supported by a 24-hour operations centre, is concentrated on the commercial market, though Young noted "there is a real need [for this] within the private yacht [sector] if you do have to transit these areas." He added, "for the private yacht market, we're hopefully taking a level of complication off going into one of these ports."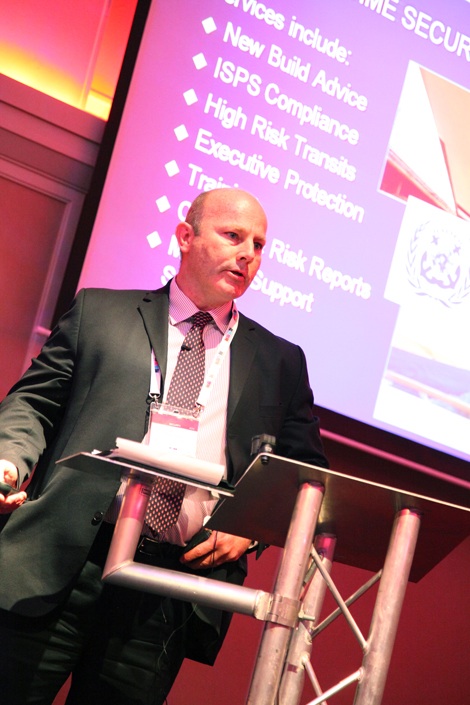 Young commented: "The situation is changing on a daily basis, the regulations are ever moving on, and we think this is a solution which is certainly effective at the moment."

Vector Developments Limited

Brian Chivers of Vector Developments Limited introduced The Protector, an anti-piracy and safety device that has been developed over the past four years. The non-lethal system, for Vector Developments a preferable solution to the use of weapons on board ships, has been designed to be able to be used with security organisations on board vessels.
It uses sensors that detect, communicate and deter: thermal imagers and cameras are used to detect (initial detection can be up to 10 miles), speakers are used to communicate, and speakers and lasers are used to deter. "Each sensor has its own power," said Chivers.
"You've got to have a strategy to do something, and that strategy has to be tied in with the system that you buy," said Chivers.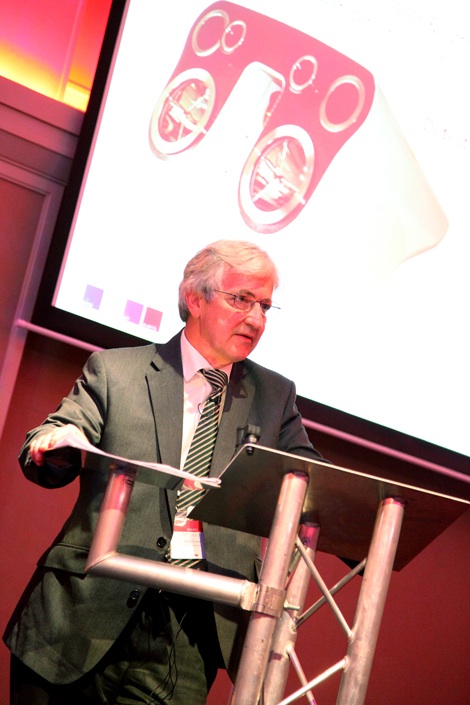 The Protector and its sensors answer the problem of the company's philosophy 'what if?' said Chivers
.
Add a comment
Other Events News
Superyacht Intelligence Data
SuperyachtIndex.com
Latest Premium Listings

BachmannHR Group Ltd
Camper & Nicholsons Marinas Ltd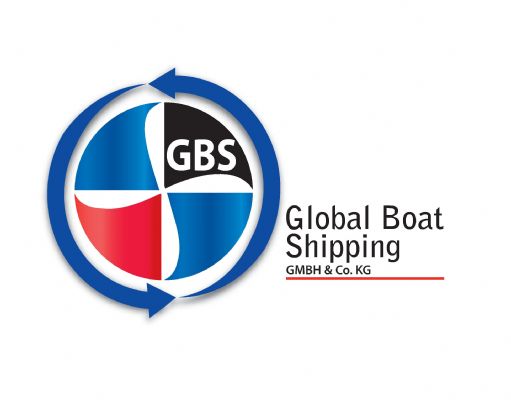 Global Boat Shipping GmbH & Co. KG
GINNACLE TEAK IMPORT EXPORT PTE LTD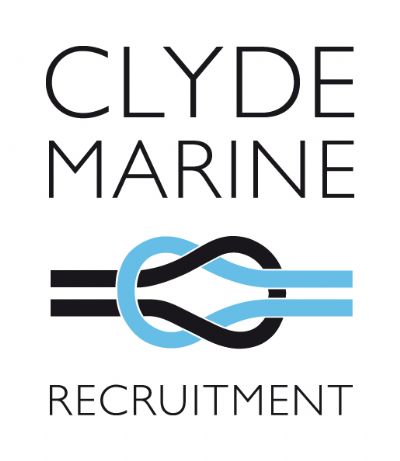 Clyde Marine Recruitment

OR Technology (Oehm und Rehbein)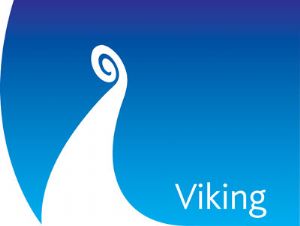 Viking Recruitment
Featured Listings