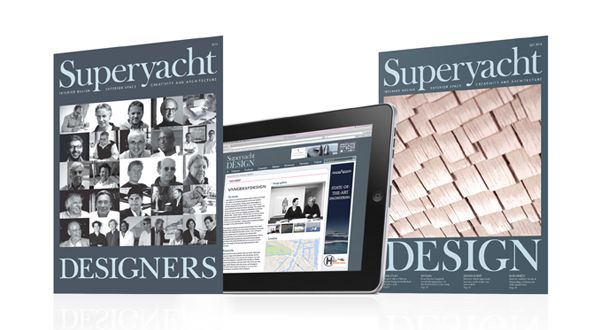 The success of any superyacht project comes down to the team around the owner. One of the first key relationships to be established is typically with the designer, but finding the right designer to accompany you on your superyacht journey can be a tough task. With this in mind,
The Superyacht Owner
's sister publication
SuperyachtDesign
has launched SuperyachtDESIGNERS, an annual magazine and online portal dedicated to providing the market with the ultimate design reference tool.
SuperyachtDESIGNERS is a powerful reference tool for owners and their representatives when considering the right team and personality for a refit, extension or new build project. Presenting concepts and projects from a selection of top design studios, whether in build or built, interior or exterior, the magazine and associated online gateway, displays each partner studio's work, philosophy and company history.
This new tool has led to a big update to SuperyachtDesign.com, with the introduction of a powerful search engine to make the value of our concepts database go further. It is now possible to search through designs by studio, interior or exterior, vessel type or length, making the search for a new project faster and more efficient than ever before. You can find this new tool under the
Concepts
tab.
The
Partner
's section on SuperyachtDesign.com allows you to view a full list of partner designers and naval architects or filter the results using the exterior designers, interior designers and naval architects tabs. Combined with our printed platform, key decision makers have a comprehensive market reference tool to compare myriad styles and create the perfect team to bring their newest ventures to life.
To celebrate these changes, existing
SuperyachtDesign
subscribers are invited to download our new Designer Global Order Book, powered by SuperyachtIntelligence.com. The report delivers a clear picture of how the market has developed over the past six years and what impact the recession has had on the balance of work between independent and in-house design teams. To download the Designer Global Order Book, subscribers can click
here
. To find out how to subscribe to
SuperyachtDesign
, click
here
.
To become a partner of SuperyachtDESIGNERS next year or to receive a copy of the print edition, please contact Phoebe Jackson:
phoebe@thesuperyachtgroup.com
.
---
If you have enjoyed reading this article, you'll love our upcoming event, The Superyacht Design Forum, taking place on 25 - 26 June 2019 at Design Centre, Chelsea Harbour. The Superyacht Design Forum provides anyone in the superyacht design world with a unique opportunity to explore new thinking and share smarter solutions for the future of superyachts. To find out more or to register, click here.