4 Sep 2012
Maxi Yacht Rolex Cup Porto Cervo 2012
The first day of racing at the Maxi Yacht Rolex Cup 2012 in Porto Cervo took the fleet of 34 yachts on a 29 mile coastal course winding through the granite islands of the La Maddalena archipelago.



Sunshine, blue skies and a south-easterly breeze of 10-15 knots were a welcome opener to the five race series from 3rd to 8th September organised by the Yacht Club Costa Smeralda in collaboration with the International Maxi Association with rain and mistral winds of 15 to 20 knots forecast for the next two races.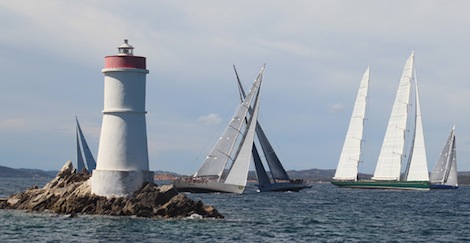 66m Hetairos tacking through the narrows past the Capo Ferro lighthouse

The course took the fleet from the start off Porto Cervo north to round Monaci island before heading south through the narrow strait at the Capo Ferro lighthouse down to the islands of Mortoriotto, Mortorio and Soffi and back to the finish.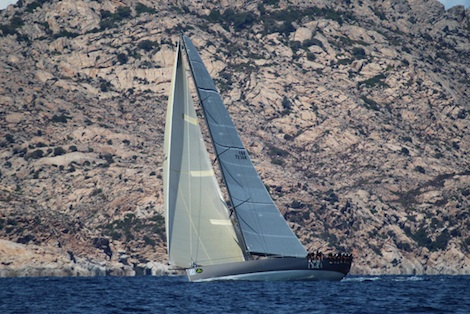 Niklas Zennstrom's JV 72
Ran2
is favourite in the Mini Maxi Class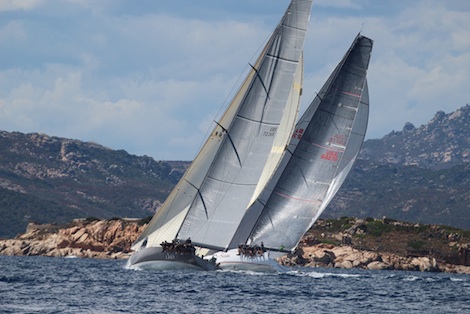 Mini Maxi's Ran2 and Shockwave tight reaching

In the Mini Maxi's, racing for their third World Chamionships, George Sakellaris' Reichel Pugh designed
Shockwave
had a very close race with class favourite Niklas Zennstrom's 72-foot Judel-Vrolijk designed
Ran2
holding the lead for the first two thirds of the race before coming to a grinding halt when tacking too close to the shore.
Hitting a submerged rock at over eight knots,17 of the crew hanging on the weather rail were thrown into the water when the stanchions and life lines broke and the helmsman crashed into the steering pedestal. Fortunately nobody was injured and the boat is expected to carry on racing after an inspection of the bulb keel.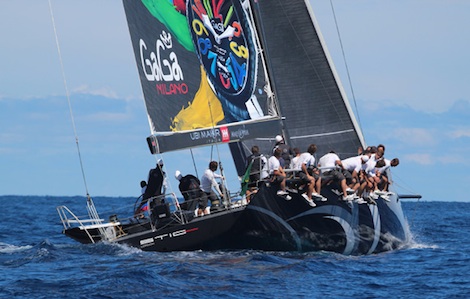 Alessandro Rombelli's new mini maxi JV72 Stig built by Baltic Yachts finished 6th on her racing debut.

Charles Dunstone's new 30.47m Judel-Vrolijk designed Wally Cento
Hamilton
built by Green Marine led the Wally division but was back in 7th place on corrected time with the 28.53m
Magic Carpet 2
taking the honours.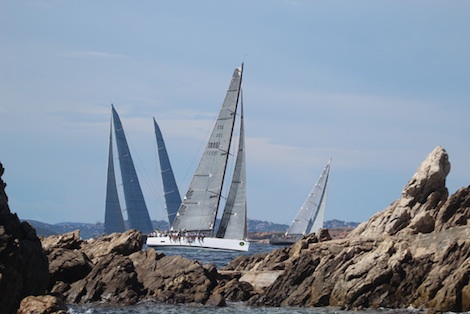 Among the Racing yachts the 30.38m
Esimit Europa 2
(ex-
Alfa Romeo
) was the fastest round the course finishing in just over two hours and thirty-two minutes with the 39.5m J Class
Velsheda
talking first place on corrected time ahead of Irvine Laidlaw's 25.24m
Highland Fling
.
 

The 66m carbon fibre ketch
Hetairos
built by Baltic Yachts was the fastest around the course in the Super Maxi division with the 34m Reichel Pugh designed
Nilaya
taking first on corrected time ahead of Peter Harrison's 35m Frers designed
Sojana
and Albert Buell's Tripp designed 45m Wally
Saudade
.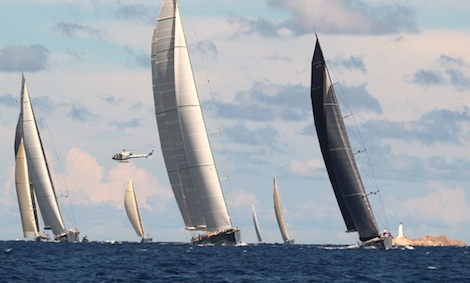 66m
Hetairos
reaching back from Ilas Monaci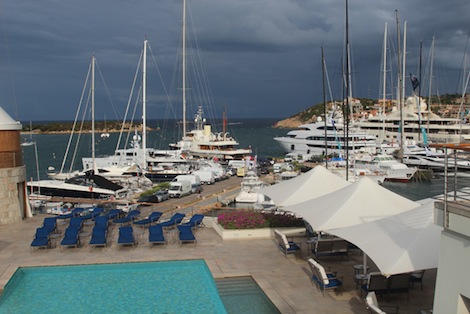 Yacht Club Costa Smeralda clubhouse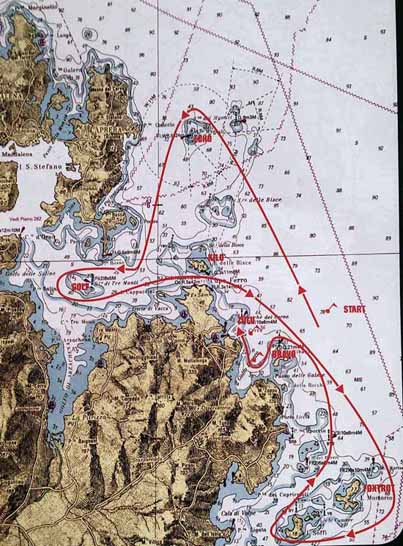 YCCS 29 mile coastal course


Tomorrow's racing sees the Mini Maxi and Wally classes scheduled to negotiate windward/leeward racing while the remaining classes contest a second day of coastal racing.

Photos: Carlo Borlenghi/Rolex and Jason Holtom
Maxi Yacht Rolex Cup Results

Racing Division
| | | |
| --- | --- | --- |
| Boat name | R1 | TOTAL |
| Velsheda | 1 | 1.0 |
| Highland Fling | 2 | 2.0 |
| Esimit Europa 2 | 3 | 3.0 |
Wally
| | | |
| --- | --- | --- |
| Boat name | R1 | TOTAL |
| Magic Carpet 2 | 1 | 1.0 |
| J One | 2 | 2.0 |
| Inti | 3 | 3.0 |
Supermaxi
| | | |
| --- | --- | --- |
| Boat name | R1 | TOTAL |
| Nilaya | 1 | 1.0 |
| Sojana | 2 | 2.0 |
| Saudade | 3 | 3.0 |
Mini Maxi Rolex World Championship
| | | |
| --- | --- | --- |
| Boat name | R1 | TOTAL |
| Rán 2 | 1 | 1.0 |
| Bella Mente | 2 | 2.0 |
| Jethou | 3 | 3.0 |
Related Links
Yacht Club Costa Smeralda
Full Results
Rolex Mini Maxi
Add a comment
Other Business News
Superyacht Intelligence Data
SuperyachtIndex.com
Latest Premium Listings

BachmannHR Group Ltd
Camper & Nicholsons Marinas Ltd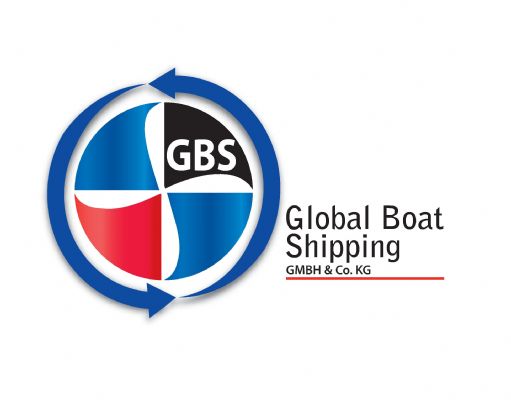 Global Boat Shipping GmbH & Co. KG
GINNACLE TEAK IMPORT EXPORT PTE LTD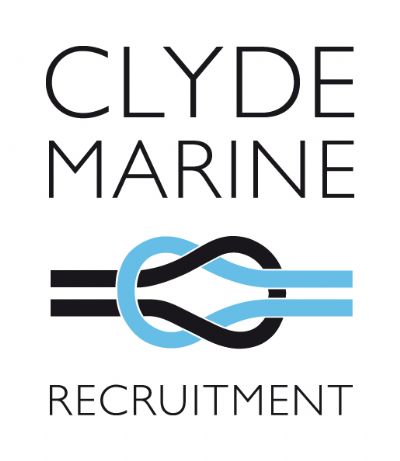 Clyde Marine Recruitment

OR Technology (Oehm und Rehbein)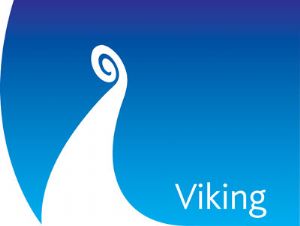 Viking Recruitment
Featured Listings